'Iron Fist' Spoilers: Claire Temple, Colleen Wing Are Highlighted In New Trailer For Marvel TV Show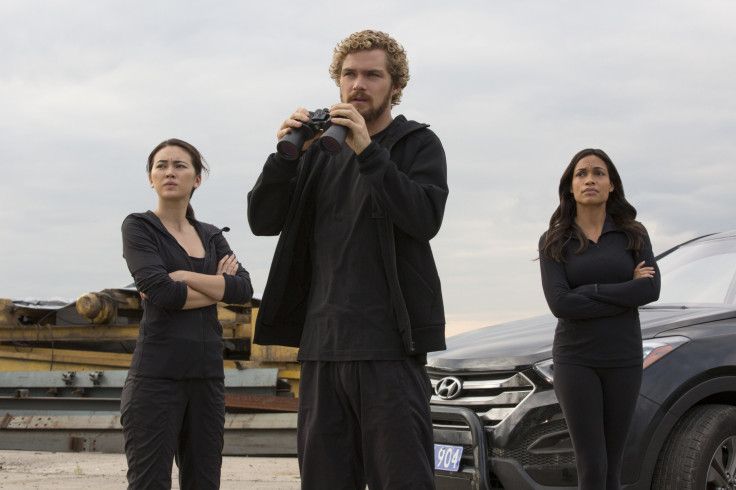 It seems like Netflix's newest Marvel drama, "Iron Fist," is going to have a few supporting characters who are fierce females. The streaming giant released a new trailer for the series Tuesday (seen above), and it's clear that Danny is going to get some help from the women around him.
Colleen Wing (Jessica Henwick) is clearly support for our hero, and she can hold her own in a fight. She and Danny (Finn Jones) are seen sparring, and around the 1:18 mark, she is in a cage fight against two guys (in her classic white comic book outfit). While Danny tries to turn down her offer for help, it looks like she won't take no for an answer. "You need me," she tells him.
Claire Temple (Rosario Dawson) also makes her triumphant return. When fans last saw her in "Marvel's Luke Cage," she was looking a flyer for Colleen's self defense classes. It seems like that's probably how she'll meet Iron Fist, but she won't realize that Colleen has a superhero ready to go. "To fight them, we need someone with special skills," Claire says.
Later in the trailer, Danny says he is Iron Fist. Claire has an understandable reaction. "What the hell does that mean?" she asks. It looks like she is about to find out.
The kung fu-inspired superhero isn't just surrounded by friends. The trailer also shows his enemy, Howard Meachum (David Wenham). He was business partners with Danny's father, and he is not happy to have Danny return.
In the comics, Howard was responsible for the deaths of Danny's mom and dad. He refused to help his business partner when he was hanging on the edge of a cliff. Danny's mother turned down Howard's help after he let her husband die, and she ended up dying while protecting Danny from a pack of wolves. The trailer reveals that this part of Danny's past has been changed for TV. It's now a plane crash that kills his parents.
"Marvel's Iron Fist"​ Season 1 premieres Friday, March 17 on Netflix.
© Copyright IBTimes 2023. All rights reserved.