ISIS Coming To America? Bombs In New York, New Jersey Stoke Fears About Terrorism In The US
ISIS Fears Grip America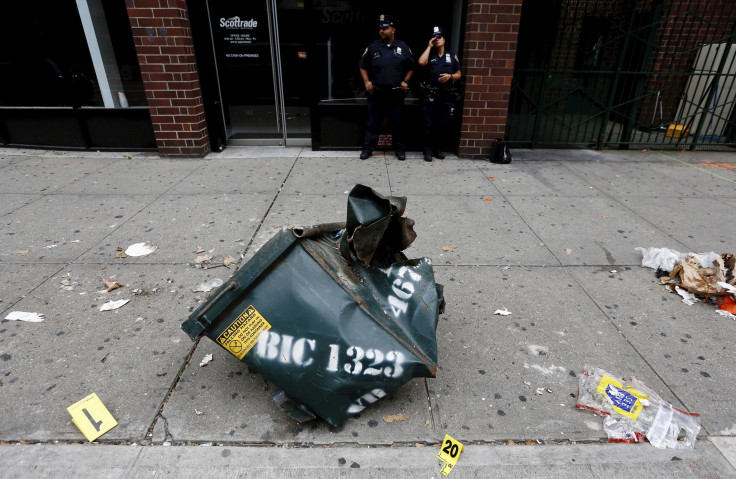 A series of bombings in New York City and New Jersey over the weekend are stoking fears about Islamic State group terror attacks in the United States.
Police arrested Afghan-American Ahmad Khan Rahami Monday in connection with the explosion of two pipe bombs in New Jersey over the weekend — one in Seaside Park and another 67 miles away in Elizabeth — as well as the discovery of multiple bombs in Manhattan that detonated in a Chelsea dumpster Saturday night injuring nearly 30 people. The New York-New Jersey bombings, combined with a mass stabbing in Minnesota Saturday linked to Islamic State supporters, have some worried about the threat of ISIS in the U.S.
Rahami's potential motive is under investigation and no international terrorist group claimed responsibility, but his Islamic background prompted critics of the Obama administration's national security politicies to raise questions about the threat of terror attacks carried out by supporters of the militant group also known as ISIS. New York Gov. Andrew Cuomo said the bombs could be tied to international terrorism and GOP presidential candidate Donald Trump linked the attacks to the influx of Syrian refugees as a result of the Obama administration's refugee policy.
"[Syrian refugees are] bringing in many cases vicious cancer from within," Trump said. "This is something that's going to be so tough. And you know they stay together so nobody really knows who it is, what's happening. They're plotting. This has been going on for so long, everybody knows it."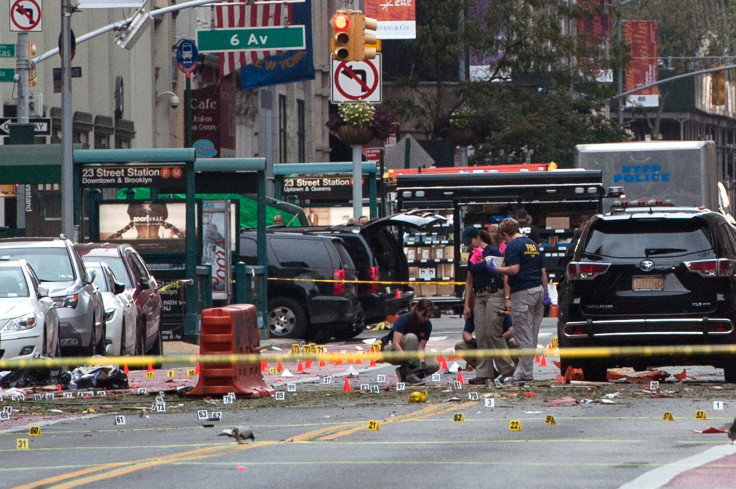 During the mass stabbing Saturday at a mall in Minnesota, Somali-American Dahir A. Adan stabbed nine people before he was killed by an off-duty police officer. According to police, Adan mentioned Allah and asked at least one victim if he was Muslim. The FBI was treating the attack as a potential act of terrorism after a wing of ISIS claimed responsibility for the attack.
According to a study by Threat Knowledge Group, a strategic analysis firm that advises the FBI, the threat of ISIS in America is very real. At least 82 people in the United States have either pledged allegiance to or were otherwise connected to ISIS have been interdicted by law enforcement since March 2014. Roughly a third of those planned to carry out attacks on U.S. soil. The FBI currently has more than 1,000 ongoing ISIS probes in the U.S.
In October 2014, Zale H. Thompson, a radicalized supporter of ISIS in Queens, New York attacked two police officers with a hatchet. He injured a civilian, as well as the two officers, before he was shot and killed by police officers.
In May 2015, two American-born Muslim men, Elton Simpson and Nadir Hamid Soofi, opened fire at police officers outside of the Curtis Culwell Center in Garland, Texas, while it was hosting an exhibit featuring cartoon images of Muhammad. One officer was injured in the attack before the gunmen were shot and killed by police. ISIS claimed responsibility for the attack.
In December 2015, Syed Rizwan Farook, an American-born Muslim, and Tashfeen Malik, a Pakistani immigrant, opened fire at a Christmas party for the San Bernardino County Department of Public Health at the Inland Regional Center in San Bernardino, California. The husband and wife couple killed 14 people and injured 24 more before fleeing the scene of the crime. They were later killed in a shootout with police. Malik swore allegiance to Abu Bakr al-Baghdadi, the founder of ISIS, in a Facebook post the day of the massacre.
In June, Afghan-American Omar Mir Seddique Mateen shot and killed 49 people and injured 53 more at the Pulse night club in Orlando, Florida. He was killed the same night in a police shootout, during which he pledged allegiance to ISIS. The attack is the deadliest mass shooting in U.S. history.
ISIS Suspects by State | InsideGov
© Copyright IBTimes 2023. All rights reserved.