ISIS Video Shows Beheading of James Foley: American Journalist Lived For War Reporting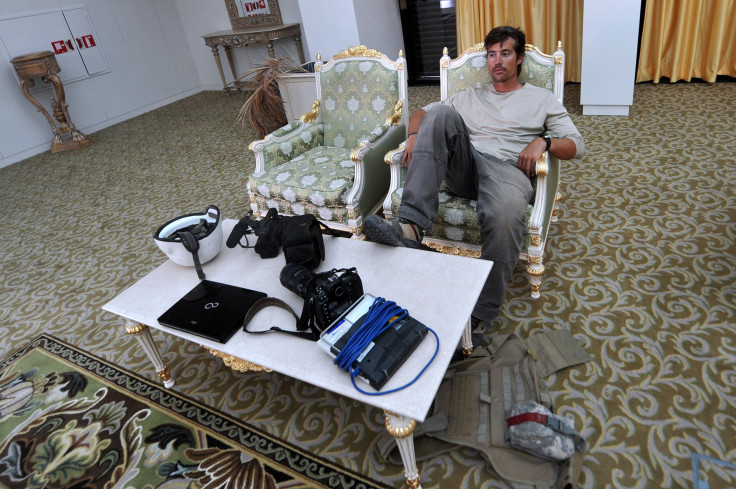 American James Foley was a freelance journalist who had reported on Egypt, Syria and Libya for Agence France-Presse, Time, the Christian Science Monitor, the National Interest, Global Post and Foreign Policy magazine. He went missing in November 2012 while reporting near Aleppo, Syria. Long before ISIS terrorists released a video of his beheading Tuesday night, Foley was well aware of the dangers of reporting from war zones. Foley and several of his colleagues were detained for 44 days in Libya in 2011, during which time he was beaten and interrogated about whether he was a spy, according to the Boston Globe.
"I still want to be a conflicts journalist, but I realize this is life and death," Foley said after his release that year.
Throughout his time abroad, Foley wrote about people buried alive, journalists killed or detained, and cities destroyed by conflict. At least 40 journalists have been killed working in Syria since March 2011, according to Reporters Without Borders, which named the country the world's most dangerous for journalists.
The video released by ISIS Tuesday shows Foley, 40, kneeling beside a masked man dressed in all black. It begins with a speech by President Obama announcing U.S. military airstrikes against the Islamic State, the group formerly known as ISIS that has declared a caliphate across parts of Syria and Iraq. The video switches to a black screen with white writing that reads: "A Message to America." Foley then begins to recite a message, presumably written for him by his captors. At the end of the video, the executioner takes a knife to Foley's neck. After a blackout, the last image appears to show Foley's detached head lying on top of his body. It ends with a threat to behead American journalist Steven Sotloff if Obama doesn't end the strikes on Iraq. YouTube removed the video shortly after it was posted.
Diane Foley said in a statement Tuesday on Facebook that she had "never been prouder of him." She said her son "gave his life trying to expose the world to the suffering of the Syrian people."
Matthew VanDyke, a journalist who spent time with Foley in Syria, said he was a skilled journalist with "a great career ahead of him."
"He was always aware of the risks," VanDyke told Sky News. "He was not someone who did anything reckless, or cowboy things. He always checked on the security ahead of him... He did everything the right way, but even when you do everything the right way in Syria, things can go the wrong way."
Foley addressed the dangers of covering foreign conflicts at a 2012 auction he had helped organize to raise money for the family of Anton Hammerl, a photographer killed in Libya while traveling with Foley as they covered the uprising against Colonel Muammar Gaddafi.
"Freelancers take some of the biggest risks and they provide news coverage for the bigger networks, so it's important to draw awareness," Foley told the BBC News. "We were with Anton, so our mission was to provide for his children. we bear some responsibility on that day, we made mistakes. It could have been any of us that were killed, but Anton was killed. "
Foley was eventually released from captivity in 2011 and driven to the Tunisian border, where a hostage team of American and British soldiers, media, and Foley's brother were waiting for him.
Foley recalled begging his captors in Libya to let him call home because "all you want to do is tell your Mom you're OK. ... She might think I'm dead."
FOLLOW MORE IBT NEWS ON THE BELOW CHANNELS