'iZombie' Season 1 Spoilers: Meet The Zombie Who Eats Brains, Solves Crimes [EPISODE 1 RECAP]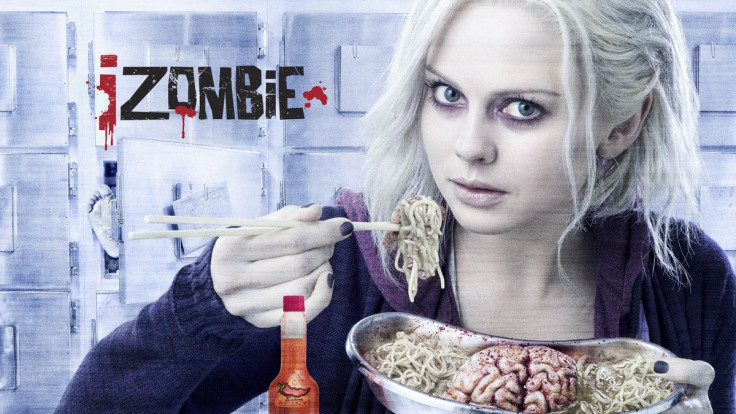 Meet Olivia "Liv" Moore (Rose McIver). She's a med resident with the perfect job, the perfect fiancé and just about the perfect life at 25. Even her so-called nemesis likes her enough to invite her to a fancy party on a boat. Unfortunately for Live, the one party she allows herself during her residency also is the site of a zombie virus outbreak. Welcome to "iZombie."
Now Liv has withdrawn from her friends, family, fiancé and roommate. Her skin has taken on a deathly pallor and she can never fall asleep, not even five months after being attacked. Liv left her prestigious cardiology residency to work in the hospital morgue under the tutelage of the odd but kind Dr. Ravi Chakrabarti (Rahul Kohli).
Liv realizes that her newfound zombie taste for cranial matter comes with an unintended side effect: She can see the memories of the person whose brain she's munching on. Stuck on an unsolved case, she brings the memories to a cynical Detective Clive Babineaux (Malcolm Goodwin) under the guise of a psychic with a vision. She can thank her boss Chakrabarti for that disguise and for geeking out instead of freaking out when he discovers her zombie secret.
But crime isn't the only thing on Liv's mind. The attack and subsequent zombie flu put her relationship with perfect fiancé Major Lilywhite (Robert Buckley) on ice. Although her heart is no longer warm, it's still broken when she sees he's beginning to move on. Liv fears infecting him, so she even avoids him at the hospital haunted house her mother insists she attends -- but not before she solves the case of a murdered Jane Doe, now identified as a call girl who was murdered for stealing a ring. Turns out, that handy new Romanian and kleptomania Liv picked up from the deceased's brain proved handy, and leads her and Babineaux to the killer before he picks off the rest of the call girl's friends in search for his missing wedding ring.
"iZombie" sneaks in little homages to old school horror classics like "Night of the Living Dead" and "The Shining" with ease. It is a zombie romantic dramedy, after all. The creators also give a nod to the comic book origins of "iZombie" by drawing up comic book interstitials within the story. It's creatively layered with a great supporting cast for lead actress McIver to play against while she changes her Liv every week with a new brain on the menu.
"Veronica Mars" creator Rob Thomas has a fun little premise that will let him play with genre and gender conventions. Like his previous young, bright crime-fighting female protagonist, Liv will develop over the course of these serialized cases. Also like the CW's original supernatural butt-kicker in "Buffy the Vampire Slayer," Liv will get her share of the action. As we saw in episode 1, she's not one to wait in the car to wait for Babineaux. Jumping in to solve crimes is giving her new life as a member of the undead. And as we saw in the last few moments of the pilot, Liv is not the only one to survive that fateful boat party.
"iZombie" airs Tuesdays on the CW at 9 p.m. EDT.
© Copyright IBTimes 2023. All rights reserved.