Jack the Cat Found Alive, Barely: Is Cargo Travel Really Safe for Your Pet?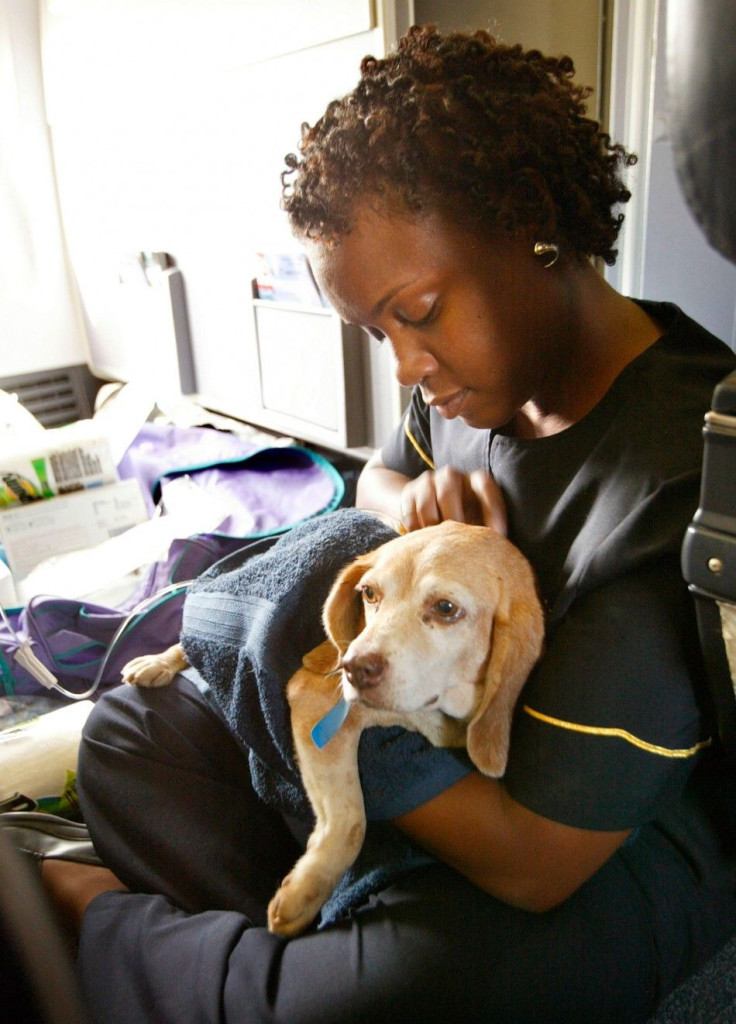 Against all odds and expectations, Jack the Cat -- who went missing after checking in to an American Airlines flight two months ago -- was found alive in JFK airport, much to the relief and surprise of his owner and the thousands of people who have been following the story.
But Jack isn't guaranteed to survive after two months without food, water or care. He's not feeling well at all, he's pretty critical -- right now it's 50/50, Dr. Matthew Cooper, speaking on behalf of Jack's primary veterinarian, told the New York Post. He has a feeding tube, he's getting fluids through an IV, but feeding is the most important thing right now.
Cooper told the Post Jack has been diagnosed with fatty liver disease, a common result of serious malnutrition.
The incident has prompted some -- including Jack's owner -- to question the wisdom of pets traveling in cargo hold. Most airlines do not allow more than a very small handful of pets in the cabin, and those pets must be small enough to fit under a seat in a carrier.
A few years ago, I (against my better judgment) let my cat fly cross-country in cargo due to complications in my own travel plans that made it impossible for us to fly together. Although I was nervous, the vet assured me that my young cat would be safe and (relatively) comfortable in the cargo hold, assuming he was adequately hydrated and sufficiently sedated.
I was concerned about him being cold, hungry, thirsty, anxious, and/or lonely -- but it never occurred to me that he would disappear.
When I arrived at the LAX American Airlines terminal to pick him up, I was told that he was indeed lost. Or, rather, that he must have missed his connection in Cincinnati, according to an airline employee who otherwise treated the matter as though we were talking about a suitcase. What do you mean, he 'missed his connection'? I demanded. Did he have one too many at the airport bar? I couldn't get any answers.
Long story short, I got him back, and I only had to wait several panicked, hysterical hours, vs. two months like Jack the Cat's owners did. As it turned out, he did make it all the way to LAX, but the luggage handlers left him alone in his crate on the tarmac. An employee from another airline heard his cries and brought him inside the airport, without alerting anyone from American. Someone eventually found him in a closet, nowhere near the gate where the plane arrived. Considering all of the missteps along the way, I was lucky to get him back at all.
Naturally, I vowed never to let a pet fly in cargo again, and after doing some research, found numerous reports of pets dying as a result of cargo air travel. According to the Boston Globe, the Department of Transit tracks pet deaths during transit, but there is no record of animal death or injury on the ground. The Globe story addressing pet travel was written in response to the loss of an 11-week old kitten who died hours after landing this past January, most likely as a result of hypothermia.
In Aug. 2010, seven puppies died after overheating in the cargo hold on an American Airlines flight. According to the Associated Press report, the temperature rose above the guideline for safe cargo travel during the time the takeoff was delayed.
The American Society for the Prevention of Cruelty to Animals (ASPCA) recommends against shipping pets in cargo hold. The Department of Transportation reported 122 pet deaths between 2005-2010, but those numbers are referring only to pets who died mid-flight, not on the ground.
Specialty airlines like Companion Air allow passengers to travel with pets in the cabin - even if the pets are large in size - but the fares are much higher than average commercial flights.
Jack the Cat was lost in baggage handling before he ever made it on to the flight. His owner, Karen Pascoe, went ahead to the planned destination in California after an initial search of JFK failed to find him. At the time, American Airline officials assured Pascoe they would find the cat and promised to contact her the next day with a report.
Pascoe told the New York Observor that nearly three days passed before she was contacted by the airline. A baggage manger called to let her know that the search for Jack was still on, but explained that the last time this happened, it took about a month to find the cat.
Pascoe told the Post that she has reconsidered methods of pet transport.
He's not flying in cargo ever again! she said. He's flying in the seat -- probably in first class -- with me on the way back. I'm not letting him out of my sight ... I'm sure American Airlines is ready to put this to bed.
© Copyright IBTimes 2023. All rights reserved.