James Corden Drops By Meghan Markle, Prince Harry's Montecito Home During US Visit: Report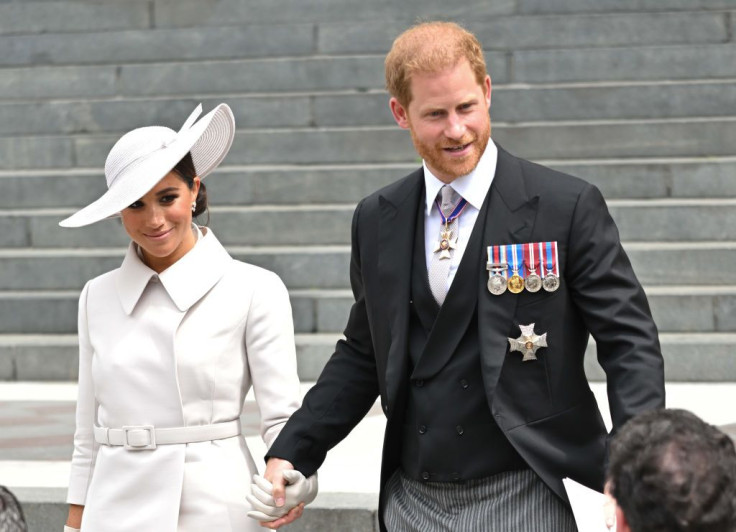 KEY POINTS
James Corden and his family traveled to the United States during his children's school break
The former TV host reportedly stopped by Prince Harry and Meghan Markle's home in California
Corden and his family relocated to the U.K. after he ended his late-night talk show
James Corden reportedly visited Prince Harry and Meghan Markle at their California estate during a trip to the U.S. following his relocation to the U.K., according to reports.
On Tuesday, the 44-year-old comedian was seen driving into the Duke and Duchess of Sussex's home in Montecito before his family dined at Lucky's Steakhouse, the Daily Mail and Fox News Digital reported.
"They [Corden and his family] went to Harry's for about an hour and then went to dinner at Lucky's [Steakhouse]," an unnamed source told Fox News Digital.
In snaps obtained by the Daily Mail, Corden wore a bright blue hoodie, jeans, white sneakers and black sunglasses during the outing.
Corden was joined by his wife Julia and their three children. In one snap, the former TV personality was captured hugging one of his kids as the family was leaving the restaurant.
The family's U.S. visit came after he ended his late-night talk show "The Late Late Show with James Corden" in April and moved back to the U.K. with his wife and children. The family traveled stateside during the children's school break, according to Hello! magazine.
Corden and his wife have known Prince Harry and Markle for years and attended their royal wedding in 2018.
About a year after the Sussexes relocated to California in 2020, Prince Harry appeared in a "Late Late Show" segment in which he and Corden drove around Hollywood on a double-decker bus.
The former television host spoke about their friendship in a 2022 interview with The Sun, revealing that he and his family have been to the royal couple's home in Montecito and that his kids had a playdate with Prince Harry and Markle's children, Prince Archie and Princess Lilibet.
"It was more a sort of playdate scenario [with the kids]," he said about the visit. "Then we went out for dinner after, it was lovely. Obviously, I'm not telling you any more. Obviously."
Corden also shut down the speculations that he gave the Sussexes a toaster as a wedding gift but admitted that he couldn't remember exactly what his present was.
He explained that it was likely his wife who bought their present for the couple, adding: "I think Jules took care of that."
Although he couldn't recall their wedding gift, Corden shared some of his memories from the duke and duchess' lavish nuptials and reception.
"Afterwards though, [at the evening reception], I did make a joke, dress­­ed up as Henry VIII, and told everyone: 'George Clooney's here, so congratulations on your new Nespresso machine, guys!' " he told the outlet.
During the conversation, Corden declared that he's "a huge fan of both of them," while noting that he knew Prince Harry better than he knew Markle. He also said that his interactions with the royal couple have been nothing but positive.
"I don't know if it necessarily needs to be voiced the whole time, but my experience of them has been nothing but positive," he said, adding, "I have nothing but admiration and respect for them."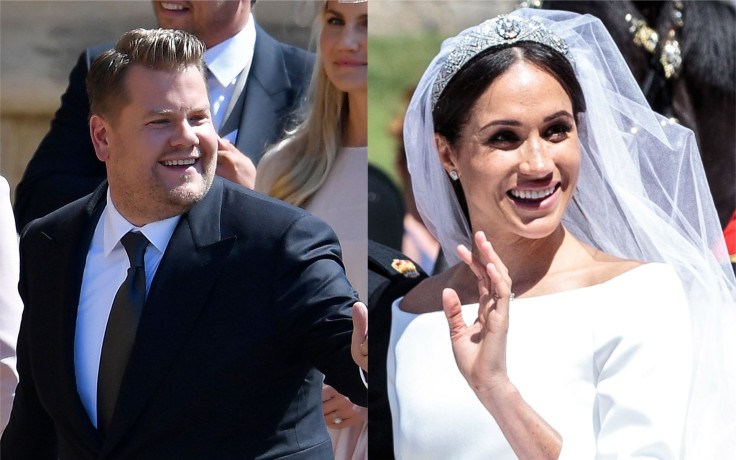 © Copyright IBTimes 2023. All rights reserved.