Jana Duggar, Tim Tebow Dating? Rep For Former NFL Star Responds To '19 Kids And Counting' Courting Rumors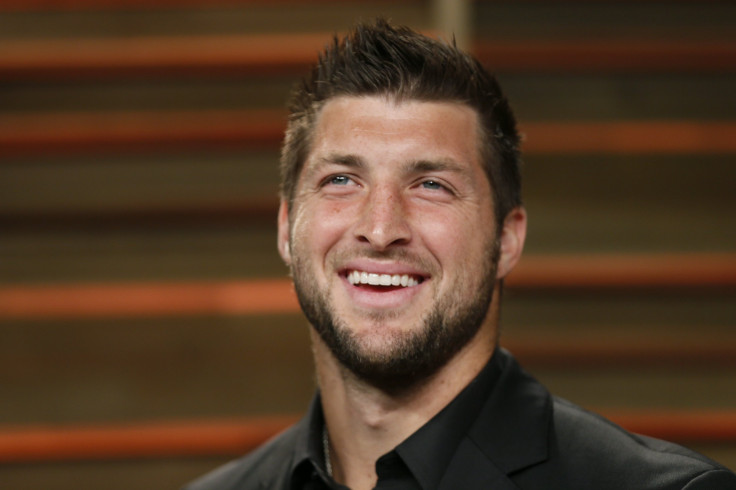 Jana Duggar is still single according to Tim Tebow's rep. Despite rumors of a romance between the "19 Kids and Counting" star and the former NFL quarterback, the pair is reportedly not courting because they've never even "interacted."
"Tim and Jana Duggar have never even met," a rep for the 27-year-old athlete told Us Weekly magazine.
So, how did speculation of a budding romance start? Parents Jim Bob and Michelle Duggar posted a photo of them alongside Tim Tebow's mother, Pam Tebow, on the Duggar family's official Facebook page.
"We enjoyed hearing Pam Tebow (Tim's mom) share tonight at the Loving Choices crisis pregnancy center banquet!" the pair wrote in the caption photo. "A great lady and a great cause!"
According to Star magazine, the Duggar's met Pam Tebow at a fundraiser for Loving Choices Pregnancy Centers in Springdale, Ark. On Nov. 11. Pam had been the keynote speaker at the event, but the meet up with the Duggar's wasn't just business. The magazine reports that Pam visited the TLC reality TV family at their Tonitown, Ark. home the following day.
The "19 Kids and Counting" fan base have been in full shipping mode for 24-year-old Jana Duggar, Jim Bob and Michelle Duggar's eldest daughter, ever since two of their other daughters wed this year. Jill, 23, married Derick Dillard in June, and Jessa, 22, married Ben Seewald in November.
Prior to Jess's nuptials, rumors sparked that Jana was "unable" to date due to obligations to help the family. An insider told Radar Online that Jim Bob and Michelle would leave their children at home and put Jana in charge while they go out on date nights.
"[Jana] does it with a smile, but it's sad," a source explained. "It's not like she ever gets a date night!"
Even Jana's twin, John David Duggar, is reportedly in the early stages of relationship. The second oldest son in the family was photographed with an "unidentified" female last month, leading fans to speculate that he has begun to court.
Although Tim Tebow is said to not be dating the single Duggar, "19 Kids and counting" viewers are in full support of a relationship. Both devout Christians with strict dating viewers, fans believe that the pair would make a great couple – and allegedly so does the Duggar patriarch.
"Jim Bob is no dummy," a source told Star magazine of the courting potential. "Tim would be a perfect addition to the family and a feather in his cap. Can you imagine the press attention a Tim-Jana wedding would get?"
© Copyright IBTimes 2023. All rights reserved.