Jason Russell Arrested: 'If Oprah, Steven Spielberg and Bono Had a Baby, I Would be That Baby' [VIDEO]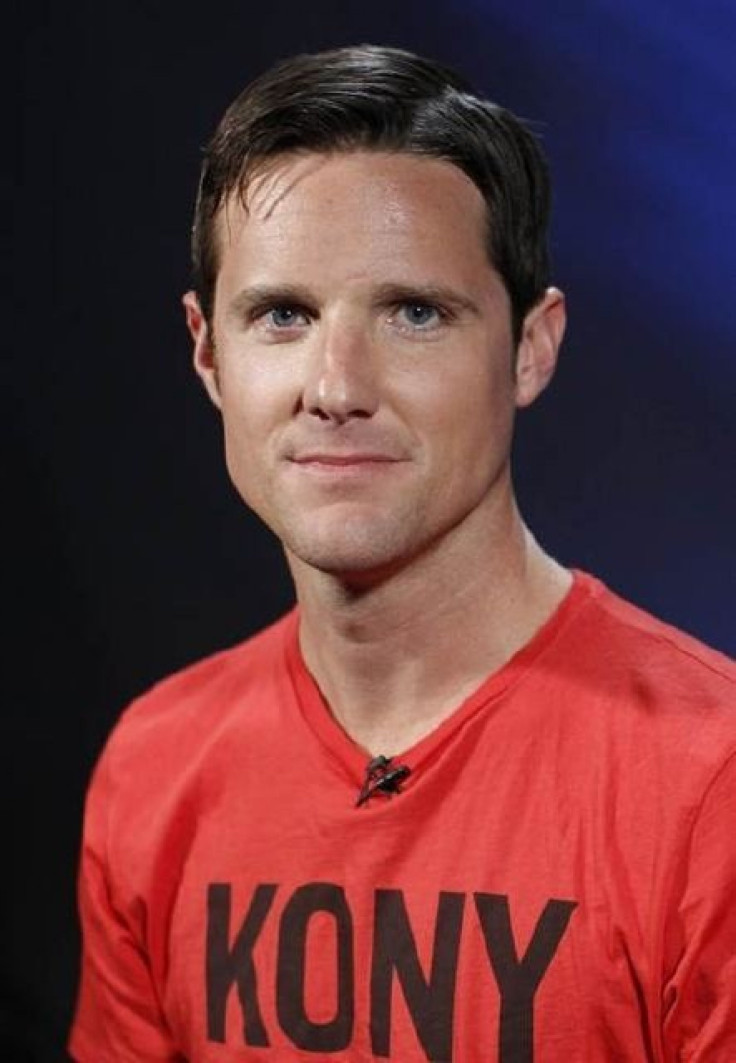 Correction: The headline for this article was written on the morning of Monday, March 19. Since then, it has been clarified that Jason Russell was not arrested, but rather detained. There are no charges pending against him.
Jason Russell, director of the Invisible Children charity's now-famous video Kony 2012, has become headline fodder after he stripped naked and ran through the busy streets of San Diego screaming You're the devil and other graphic obscenities. He was taken into custody on Thursday. Despite previous reports, he was not arrested and will not be charged, TMZ clarified on Sunday.
San Diego police told NBC7 that they had received numerous calls around 11:30 a.m. reporting a man in various stages of undress. Jason Russell was reportedly dancing at the intersection of Ingraham and Riviera streets wearing speedo-like underwear. He eventually stripped naked and began making sexual gestures. He pounded his fists and yelled maniacally in the busy intersection.
Russell supposedly suffered a mental breakdown, blamed on exhaustion, dehydration and malnutrition. Due to the nature of the detention, he was not arrested, Lt. Andra Brown told media outlets. During the evaluation we learned we probably needed to take him to a medical facility because of statements he was saying.
Prior to the almost-instantaneous fame the Invisible Children and Kony 2012 have received, Jason Russell was an unknown advocate. Now that he has been thrust into the spotlight, with his Kony 2012 video having been viewed over 81 million times and the viral-spread of his naked breakdown video, everyone wants a peek inside his mind.
Inside the Mind of Jason Russell
In March 2011, Jason Russell gave an interview to PMc Magazine that revealed a more personal, intimate side of the Kony 2012 director.
Jason Russell and the Invisible Children charity gained fame after the likes of Rihanna, Kim Kardashian, Nicole Richie, Jessie J and Stephen Fry -- who together have more than 35 million followers -- set out on a social media campaign to shed light on the plight of the invisible children of Uganda. Celebrities retweeted the hashtags #StopKony and #Kony2012 to spread the word.
Joseph Kony leads the Lord's Resistance Army, a feared and brutal insurgency that fought for years to overthrow the Ugandan government but has been driven into neighboring countries. Kony and his army continue to threaten regional stability and civilian populations. The Stop Kony mission was established by the Invisible Children organization. The 30-minute documentary Kony 2012, made by Invisible Children and directed by Jason Russell calls for an international effort to arrest Joseph Kony, disarm the LRA and save the invisible children.
Prior to this social media push, no focus was directed on Russell or the Invisible Children campaign. However, with the skyrocketing notoriety of the Kony 2012 video and Russell's bizarre naked rampage video, all eyes are on Jason Russell.
I am a rebel soul: dream evangelist. I am obsessed with people. I tell stories by making inspiring movies that move people's emotions, and then I take those emotions and transform them into action, Russell told PMc Magazine last March.
My middle name is 'Radical.' I married my best friend. We have known each other since we were six and seven. I have a three-year-old boy named Gavin Danger and a one-year-old girl named Everley Darling. I truly believe I am the luckiest person on earth because of my family, friends and the ability to go to a dream factory every day for work.
I am from San Diego, California, with an upbringing in musical theater. I am going to help end the longest running war in Africa, get Joseph Kony arrested and redefine international justice. Then I am going to direct a Hollywood musical. Then I am going to study theology and literature in Oxford, England, and then move to New York to start 'The Academy' - which will be a school where the best creative young minds in the world attend, he said.
When asked who his biggest hero is, Russell responded: If Oprah, Steven Spielberg and Bono had a baby, I would be that baby.
The Kony 2012 video director went on to say that his personal bible is East of Eden. No book will ever come as close to the love I have for that book. Timshel.
In his spare time he likes to brew his own beer, watch documentaries, bounce on the bed with his children and travel to undiscovered places. He likes cheese, forgiveness and Mumford & Sons. He hates ignorance, laziness and injustice. His favorite comic book superhero is Peter Pan and his favorite color is red, For every single reason you can think of. Love. Hate. Passion.
Click here to read the full article from PMc Magazine.
The Breakdown
On Thursday, March 15, Jason Russell was reportedly taken into custody in San Diego, according to TMZ. Officers detained [Russell] and transferred him to a local medical facility for further evaluation and treatment, police said. He was reportedly calm when apprehended, but appeared drunk. His breakdown was caught on camera and went viral on the Internet over the weekend. He was placed on a 5150 psychiatric hold.
CEO of Invisible Children, Ben Keesey, told TMZ that the breakdown was a result of exhaustion, dehydration and malnutrition.
Keesey's statement said, He is now receiving medical care and is focused on getting better. The past two weeks have taken a severe emotional toll on all of us, Jason especially, and that toll manifested itself in an unfortunate incident yesterday.
Jason's passion and his work have done so much to help so many, and we are devastated to see him dealing with this personal health issue. We will always love and support Jason, and we ask that you give his entire family privacy during this difficult time.
His wife, Danica Russell, blamed the irrational behavior on the harsh response Jason Russell and his Invisible Children colleagues have had to face from skeptics who criticized the Invisible Children organization and the Kony 2012 video. The Invisible Children organization has been accused of misuse of funds, exaggerated claims and more. Even the prime minister of Uganda, Amama Mbabazi, has spoken out against the group.
The Kony 2012 campaign fails to make one crucial point clear. Joseph Kony is not in Uganda, he said in a nine-minute video posted on YouTube. He added that Uganda was on Kony's trail and did not need a slick video on YouTube... to take notice.
Danica continued to defend her husband.
We thought a few thousand people would see the film, but in less than a week, millions of people around the world saw it, she said. While that attention was great for raising awareness about Joseph Kony, it also brought a lot of attention to Jason and, because of how personal the film is, many of the attacks against it were also very personal, and Jason took them very hard.
Danica has denied that her husband has any drinking problems. We'll take care of Jason, you take care of the work. The message of the film remains the same: stop at nothing, she said.
Public Response
Public response to Jason Russell's visible mental breakdown has been powerful. Some in Hollywood have come to Russell's defense, reported The Hollywood Reporter.
In Jason Russell's defense, who DOESN'T celebrate a video going viral by jerking off in public? tweeted comedian Patton Oswalt. He followed up with a correlation to Mike Daisey, who faced criticism this week after his Apple-injustices story on NPR's This American Life was retracted. THE VIRAL ONES: (2012) Jason Russell, George Clooney & Mike Daisey are chained together & must escape public scrutiny, Oswalt later tweeted.
All News Arrested for Public Masturbation and Vandalizing Journalism While Possibly Under the Influence of Stuff a Cop Said Someone Said, executive producer of Community, Dan Harmon, tweeted. Adding: CNN and FOX agree: Do NOT accept uncorroborated propaganda from Internet hippies that possibly drop acid and throw sperm at your car maybe.
The Big Bang Theory actor John Ross Bowie said: You realize this doesn't automatically make Joseph Kony a nice guy, right?
Others were not so much focused on Jason Russell's breakdown as they were on the factors behind his rise to fame with Kony 2012.
The manipulation of the truth to get you to care followed by the assertion that onus is on the audience to delve deeper. I'm sorry, but if something is being presented as true, as non-fiction, as journalism it should actually be true, wrote Forbes' Anthony Wing Kosner. New York Times theatre critic Charles Isherwood wrote in yesterday's paper, 'But theater that aims to shape public opinion by exposing the world's inequities has no less an obligation than journalism to construct its larger truths only from an accumulation of smaller ones.' Both Daisey and Russell cut corners and convinced themselves that it was justified because the dramatic arc of the story is true.
Or maybe it's because, on some level, they understand how viruses work, by tricking the host cell into becoming a factory for their own replication. Perhaps the almost true is potent precisely because the audience has to bridge the gap of truth and in so doing become complicit in its viral spreading, said Kosner.
© Copyright IBTimes 2023. All rights reserved.
FOLLOW MORE IBT NEWS ON THE BELOW CHANNELS