Jennifer Aniston, Brad Pitt Reportedly Getting Married In June After Sweet SAG Reunion
KEY POINTS
Jennifer Aniston and Brad Pitt are reportedly getting married in June
The Hollywood stars had a powerful reunion at the SAG Awards
Jennifer Aniston wanted to have a baby with Brad Pitt
Jennifer Aniston and Brad Pitt are reportedly getting married in June.
Aniston and Pitt made a sweet reunion at the SAG Awards last Sunday. Following their powerful moment, there are reports claiming that the two have officially gotten back together and are even planning to tie the knot again.
Sources told Life & Style that Pitt and Aniston's "save-the-date cards are already ready in the mail." The rumored couple's big day is said to be happening in June and it will be different from the first one they had.
"It's happening in June and everyone's buzzing that Jen has found her dress!" a source said.
"Jen wants to tie the knot surrounded by greenery and has been checking out ranches in California's Napa region."
The insiders were convinced that Pitt and Aniston still have feelings for each other. A source stressed that the "Ad Astra" actor's love for his ex-wife is obvious the way he started at her on the screen when Aniston delivered her acceptance speech. Also, some noticed that Aniston seemed to be wearing an engagement ring at the event.
"Brad is in love with Jen again, it was obvious from just him watching he. He wasn't even trying to hide it in public. You couldn't wipe that smile off his face even if you tried and I've never seen Jen look so genuinely happy," the insider added.
Body language expert Patti Wood also had the same observations. According to her, the way Pitt held Aniston's hand showed a sign that he wanted her to stay. Meanwhile, she sensed an inner conflict on the "Murder Mystery" actress' part. According to Wood, Aniston was torn between her desire to stay connected with Pitt and desire to move on. She added that Aniston couldn't completely let go of her ex-husband.
In related news, Aniston reportedly wanted to have a baby with Pitt shortly before they announced their separation years ago. The "Cake" star told The Guardian that it was about time because she was wrapping up her hit TV series "Friends" and Pitt was about to finish his film with Angelina Jolie, "Mr. & Mrs. Smith."
Aniston added that she can have a baby and still work even if pregnant. "I think you can do all of it. So I'm just truly looking forward to slowing down," Pitt's then-wife said.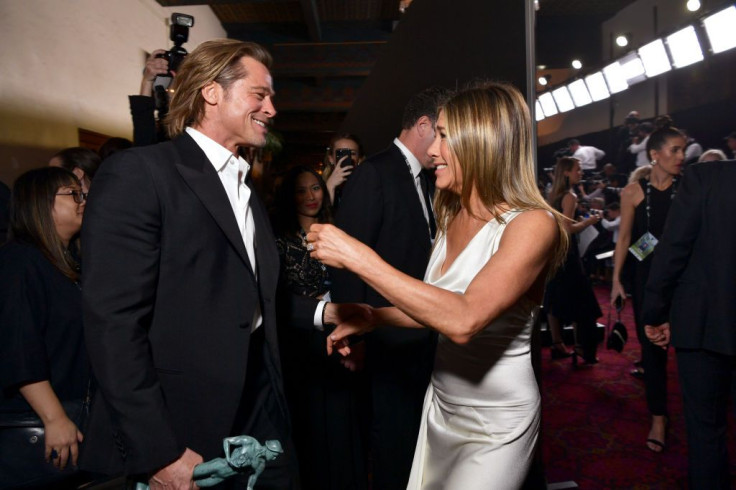 © Copyright IBTimes 2023. All rights reserved.