Jennifer Lawrence Salary Gap Struggle Continues With Sony Pictures On New Project 'Passengers'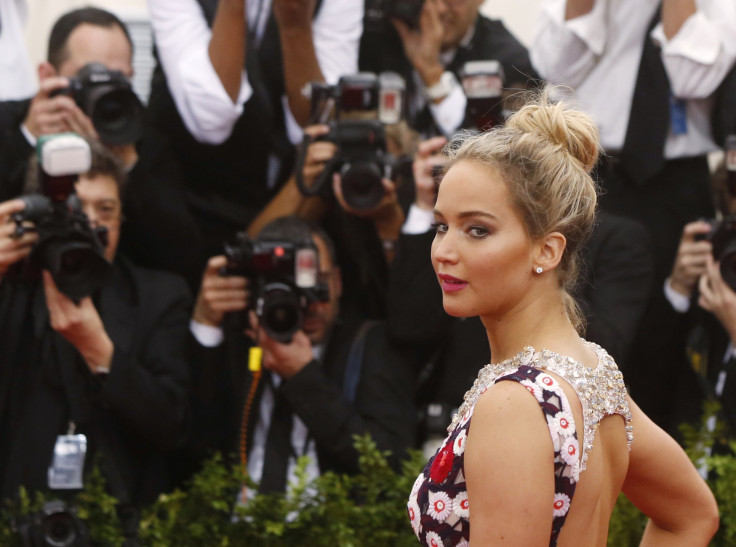 A space-y love story "Passengers" may become the latest battleground for gender parity in Hollywood as star Jennifer Lawrence has decided to hold onto her previously agreed-upon salary for the upcoming project. Although Sony Pictures has changed a few hands behind-the-scenes after a humiliating email scandal over "The Interview," the latest salary news indicates Lawrence will hold onto her terms made with Sony's former co-chairman Amy Pascal.
According to The Hollywood Reporter, Sony executives are none too keen on upping the pay scale. Fiscally conservative Tom Rothman is reportedly looking to talk Lawrence, 24, down from the previously agreed upon $20 million upfront sum. But the odds are not in his favor after the leaked Sony emails revealed Lawrence was woefully undercut alongside her male "American Hustle" co-stars Bradley Cooper, Christian Bale and Jeremy Renner.
The reason behind the balk is that Sony has allegedly paid almost $40 million to get "Passengers" off the ground. The movie has spent a significant time in development, and Sony heads like Rothman are looking to keep costs down as much as possible. Sources say Lawrence's "Passengers" co-star, Chris Pratt, is said to be taking $10 million for the role, with possible percentage points of the movie's gross depending on how successful the "Jurassic World" movie does in theaters. Rothman is trying to hold "Passengers" down to a $85-90 million production figure.
At one point, Lawrence and Oscar-nominated director Morten Tyldum were set to walk away from "Passengers" should Sony refuse to pay Lawrence her fair share. They acquiesced and the crisis was adverted for the time being.
Lawrence is currently working with her "Silver Linings Playbook" and "American Hustle" director David O. Russell, aiming for another chance at Oscar gold with the movie "Joy," about the inventor of the Miracle Mop. After closing the book on "The Hunger Games: Mockingjay Part 2" and signing off the "X-Men" prequels, Lawrence's time will be much more free to pursue smaller films like "Passengers," should studios deem her star power worthy of an equal paycheck.
The final chapter of "The Hunger Games" saga will open in theaters on Nov. 20. "Joy" is scheduled to hit theaters Dec. 25.
© Copyright IBTimes 2023. All rights reserved.