Jessa Seewald Was Thankful For Baby Spurgeon And Husband Ben On Thanksgiving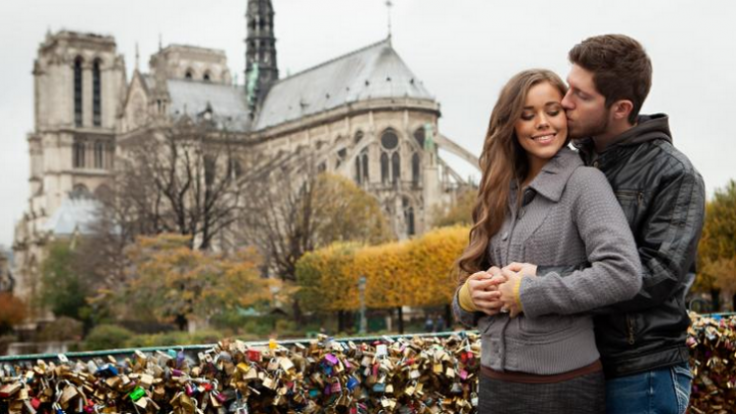 Jessa Seewald was feeling particularly thankful Thanksgiving Day. The new mother wrote several messages to the people for whom she was thankful. She posted a blog entry with her husband Ben Seewald that expressed their feelings about their son Thursday. She also posted another message dedicated to her husband later.
"This Thanksgiving, one of the things we are grateful for is our precious little son, Spurgeon Elliot," Jessa and Ben wrote.
Spurgeon was born Nov. 5, and Jessa had a particularly difficult labor. The former "19 Kids and Counting" star gave birth at home after 10 hours of labor, but an abnormal amount of bleeding caused her mother, Michelle Duggar, to call an ambulance. Jessa stayed in the hospital overnight and received a blood transfusion.
Although the first day of motherhood was rough, the new mom appears to be overjoyed now. "This Thanksgiving we are so happy to be parents!" she and Ben said on their blog. "Children are a blessing from the Lord. As we are embarking on this journey of parenthood, we appreciate all of your prayers. We pray that God would give us the wisdom to be good parents."
Jessa's thankfulness didn't stop with Spurgeon, though. On Instagram, she posted a new photograph of Ben holding the baby and explained why she was thankful for her husband of one year. "These past three weeks have been so precious to me as I have watched you love and care for our son," Jessa wrote. "From his middle-of-the-night diaper changes to his sweet cuddle times with daddy, it melts my heart to see the interaction between you two! You're such a good daddy!"
While the couple can't present their baby on the now-defunct "19 Kids and Counting," they take every chance to show him off on social media. They included a few new photos of baby Spurgeon with their blog, and have posted several photos of him on Twitter during the past three weeks.
Fans of the Duggars and Seewalds will get another chance to see the family on televison in December. Jessa and her sister, Jill Dillard, will star in "Jill and Jessa: Counting On," a three-part special. It premieres on TLC Dec. 13 at 8 p.m. EST.
© Copyright IBTimes 2023. All rights reserved.