Jessica Lynch: 10 Years Since Her Rescue, Continues To Have Nightmares [VIDEO]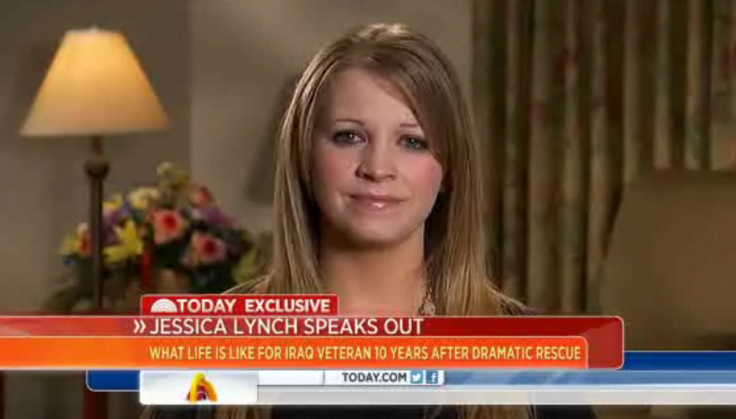 Ten years ago, Army Pvt. Jessica Lynch became the first American POW to be rescued since the Vietnam War.
Today the 29-year-old still faces injuries -- both physical and mental ones -- since her rescue from an Iraqi hospital by U.S. Special Forces on April 1, 2003, NBC's "Today" show reports.
"About every night, I have some kind of dream where there's someone chasing me,'' Lynch said.
Days into the Iraq War, the then 19-year-old Army private was ambushed in Nasiriya, captured and held by Iraqi soldiers at a hospital before she was rescued, according to the news outlet.
The story of her rescue was dramatized and Lynch launched into media stardom. But Lynch fought the image the media gave her and testified before Congress asserting her status as a survivor, not a hero.
Eleven soldiers were killed in the attack, including Lynch's best friend, Lori Piestewa, who died in a hospital bed next to her. Five other captured soldiers held separately were released 12 days later, the Charleston Gazette reports.
"I know that there was a lot of fabricated, misconstrued stories, but I did what I had to do,'' Lynch told "Today" about her decision to go before Congress.
In her testimony, Lynch clarified that her injuries did not come from fighting the enemy but from when her Humvee was hit by a rocket-propelled grenade and she never fired a shot because her rifle jammed, the Christian Post reports. Lynch underwent 21 surgeries and suffered from devastating injuries, including a broken back, Yahoo reports.
Lynch is now a mother, teacher and motivational speaker living in Charleston, W.Va.
"I'm kind of happy that we're finally to this 10-year mark, so that I can finally put Iraq in the past,'' Lynch said. "It's always going to be with my life, waking up every day and dealing with the injuries. I go on and I strive and I do the best that I can.''
© Copyright IBTimes 2023. All rights reserved.