JetBlue Flight Bound For New York Circles Las Vegas For Five Hours Due To Mechanical Malfunction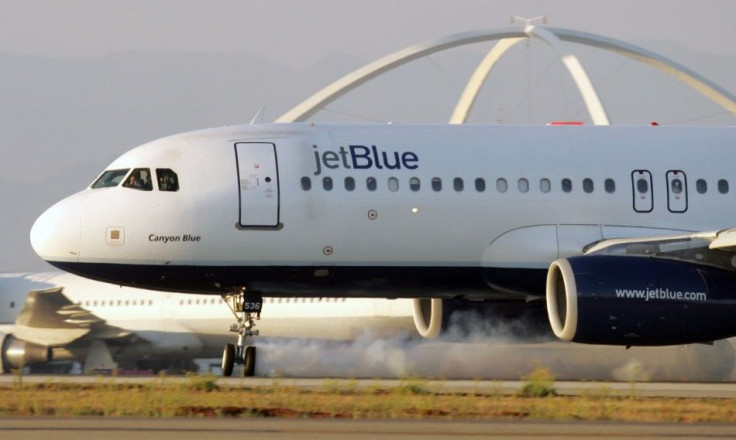 A mechanical failure on a JetBlue airliner forced 135 passengers aboard a Las Vegas to New York flight to endure several hours of terror, prompting the Federal Aviation Administration to launch a full investigation into the incident.
It was four hours of hell, said Travis McGhie, who said the flight kept lurching side-to-side and into steep turns when the hydraulic system failed, according to the New York Post. People were getting sick. Some people were throwing up. There were a lot of people getting nauseous, another passenger, Tom Mizer, told the paper.
On Wednesday, JetBlue confirmed that the captain of Flight 194 declared an emergency landing on Sunday due to a mechanical indication in the cockpit, ABC reported.
The crew on the airliner attempted to quell the fears of the passengers. One flight attendant reportedly walked up and down the aisles telling passengers to look at her as she smiled as she was not afraid.
You could hear a screeching -- an obvious mechanical screeching ... we were bouncing around a lot, Mizer told ABC. The passenger suspected that something was wrong with the plane from the start.
The plane had approximately five hours' worth of fuel. Therefore, the pilot had to circle the Las Vegas Strip while it burned enough fuel to land safely. The pilot did not want to take a chance of flying to New York under the conditions.
People on board got a little freaked. People were upset. Nobody was crazy, but everyone was upset, Mizer said. It became a long, sort of very tense waiting game.
Eventually, the plane landed at Las Vegas's McCarran Airport at 7:37 p.m. where the flight had taken off. The aircraft was towed to the gate because the wheels no longer worked, the Daily Mail reported.
At 10:13 pm, another plane was available to take the stranded passengers to New York.
JetBlue released a statement regarding the incident:
JetBlue takes all incidences seriously, and the safety of our customers and crew members is our No. 1 priority, said the company, according to the Daily Mail. The actions the crew took in response to this event truly represent who we are and our core value - safety.
Aboard the flight was conservative columnist S.E. Cupp, who tweeted about the incident.
Well, after flying for five hours, I've just landed in Vegas. Where I started, she tweeted. Emergency landing after losing hydraulics. The plane turned into a vomitorium. For five hours.
And, after all that, I'm still in Vegas, she continued. If I didn't have to get home, I would never fly again.
© Copyright IBTimes 2023. All rights reserved.