Jill Duggar Pregnancy Update: '19 Kids And Counting Star' Shows Off Growing Baby Bump, New Wedding Photos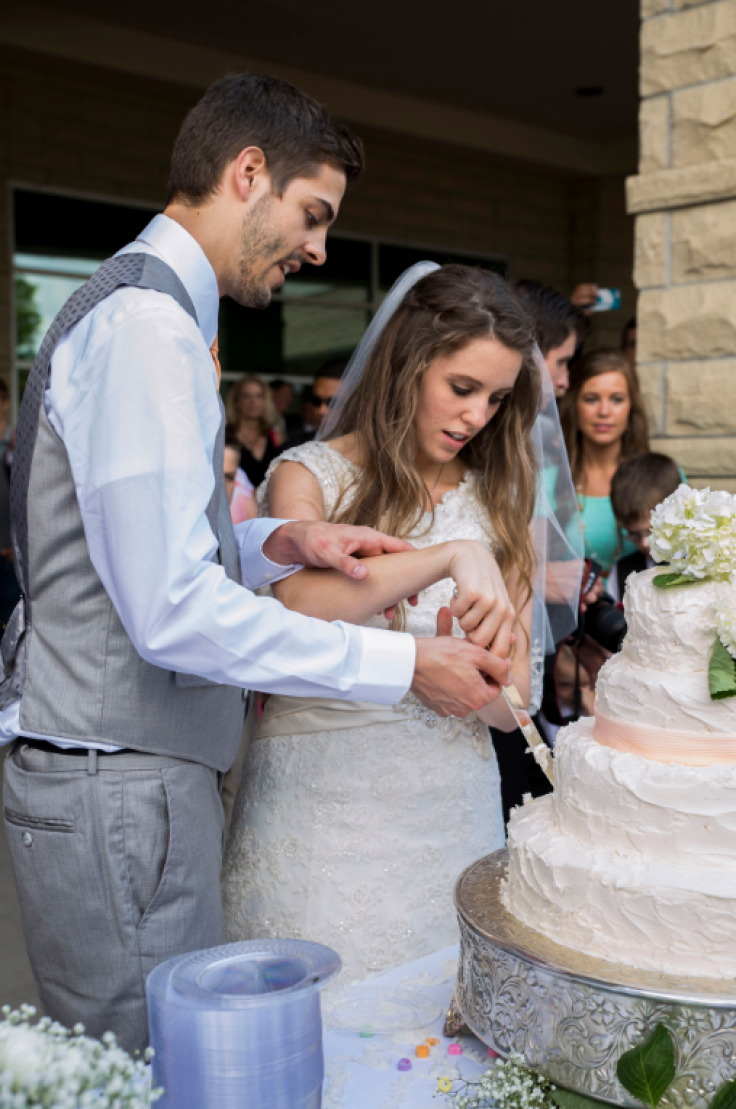 "19 Kids and Counting" is currently on hiatus, but that hasn't stopped the reality-TV clan's parents, Michelle and Jim Bob Duggar, from speaking out about their daughter's pregnancy. With less than three months to go until Jill Duggar is due to deliver her first baby with husband Derick Dillard, Michelle and Jim Bob, both 49, shared a photo of their daughter's growing baby bump on the Duggar family's official Facebook page Sunday.
"Sweet picture of our Jill and her little one," Michelle and Jim Bob wrote on the fan site. In the photo, Jill, 23, can be seen cradling her bump while holding a sign that says she is 28 weeks and four days along. She is due to welcome a son with Derick, 25, in March. "At this point in gestation, there is now a 90 percent chance that he could survive outside the womb," the couple continued. "Life is beautiful! We can't wait to meet this boy!"
While Jill wasn't the one to share the pregnancy update, she did post several never-before-seen wedding photos to her own Facebook page New Year's Day. In the photos, taken on her wedding day in June 2014, the newlyweds can be seen smiling, kissing and hugging one another outside their reception venue in Rogers, Arkansas. Other images feature Jill's bridesmaids and sisters, Joy-Anna, 17, Jinger, 21, Jana, 24, Johannah, 9, Jessa Duggar Seewald, 22, and her pregnant sister-in-law, Anna Duggar, 26.
Jill last spoke out about her pregnancy on social media during the holidays. "Merry Christmas from the Dillards!" Jill posted to Instagram late last month alongside of image of herself using a Christmas bow to accentuate her baby bump. "As we rejoice in the celebrations around the birth of Jesus Christ, we thank God for our precious little gift!"
Earlier in December, the TLC star showed off her pregnant physique while accompanying her family on their annual mission trip. "Headed back to the USA," Derick captioned the photo. "Praise God for the work He is doing in El Salvador. #babydillyfirstmissiontrip."
"19 Kids and Counting" will return to TLC in February. Season 9 will feature Jill's pregnancy and "home videos" of her newlywed life, according to the Duggar family blog. Jessa Duggar's Nov. 1. wedding to Ben Seewald will also be featured. It is rumored that footage from Jessa and Ben's honeymoon to Paris may also be included in coming episodes.
Season 9 of "19 Kids and Counting" premieres Tuesday, Feb. 17, at 9 p.m. EST on TLC.
© Copyright IBTimes 2022. All rights reserved.
FOLLOW MORE IBT NEWS ON THE BELOW CHANNELS