Jill And Jessa Duggar Respond To Feuding Rumors; Do The '19 Kids And Counting' Stars' Husbands Not Get Along?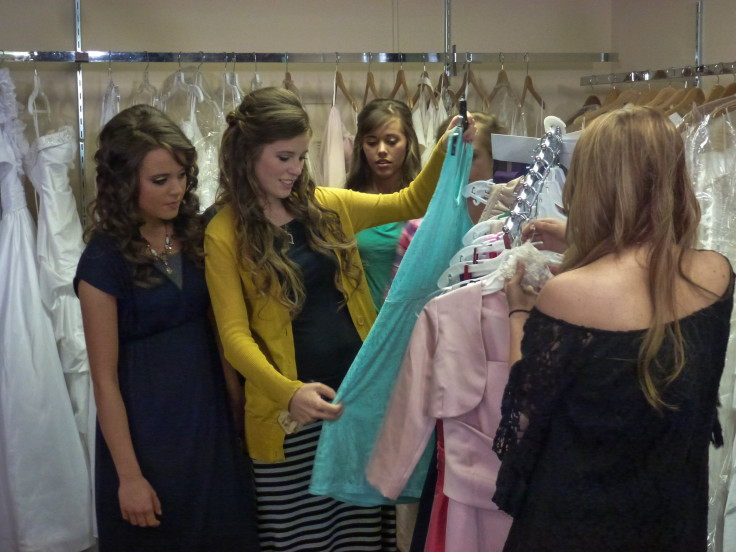 Jill and Jessa Duggar's recent Twitter activity had some fans questioning if the "19 Kids and Counting" stars were feuding last week, but it appears the sisters are doing nothing of the sort. The TLC reality-TV stars responded to the rumors on Monday by sharing an image of a recent double-date night with their husbands.
In the photo posted by Jill Duggar, 23, the mom-to-be can be seen posing and smiling with her husband, Derick Dillard, in matching flannel shirts, while Jessa, 22, sits next to her new husband, Ben Seewald. "@jessaseewald and @ben_seewald are here for dinner!" Jill announced in a Dec. 8 Instagram post. "So fun hanging out with our siblings! #familydinner #19kids."
The two couples dined on beans and cornbread during their date night, but the real question is, did they talk about the women's supposed feud? The Inquisitr first reported that Jill follows every Duggar family member on Twitter except her social media-savvy sister, Jessa, who follows eight people on the social media site, including Jill on her short "following" list.
While it seems unlikely the two sisters were really feuding -- they've shared loving messages on social media before -- rumors of their discord heated up again Tuesday after InTouch Weekly reported that Ben, 19, had snubbed Derick, 25, online. According to the tabloid's report, the two "19 Kids and Counting" co-stars also have conflicted "following" lists on Twitter.
While Derick follows every Duggar family member on his account, including Ben and his family, Ben doesn't follow his brother-in-law. The 19-year-old college student has Jill and Jessa on his "following" list, and even big sister Jana Duggar's rumored courting partner, NFL free agent Tim Tebow, but Derick is noticeably absent from his list of 34.
Jana, 24, has admitted to having a strained relationship with her sisters in the past. In the Duggar women's shared 2014 book, "Growing Up Duggar: It's All About Relationships," Jim Bob and Michelle's eldest daughter dished about her childhood tensions with Jessa.
In one of the book's passages, Jana discusses a fight she had with Jessa when they were little and how their mother forced her to give away one of her prized possessions in an effort to make peace with her sister.
"It was hard to give away one of the most treasured posessions, especially to someone I wasn't happy with," she wrote. "I told Jessa I had something to give her. I told her I loved her and handed her my gift."
"19 Kids and Counting" returns to TLC in 2015. The new season is expected to feature Jill's pregnancy and Jessa's Nov. 1 nuptials to Ben. Check out a sneak peek of Season 9 here.
© Copyright IBTimes 2022. All rights reserved.
FOLLOW MORE IBT NEWS ON THE BELOW CHANNELS