Joan Rivers Addresses Dying In Shocking 2012 Clip: 'I've Had An Amazing Life'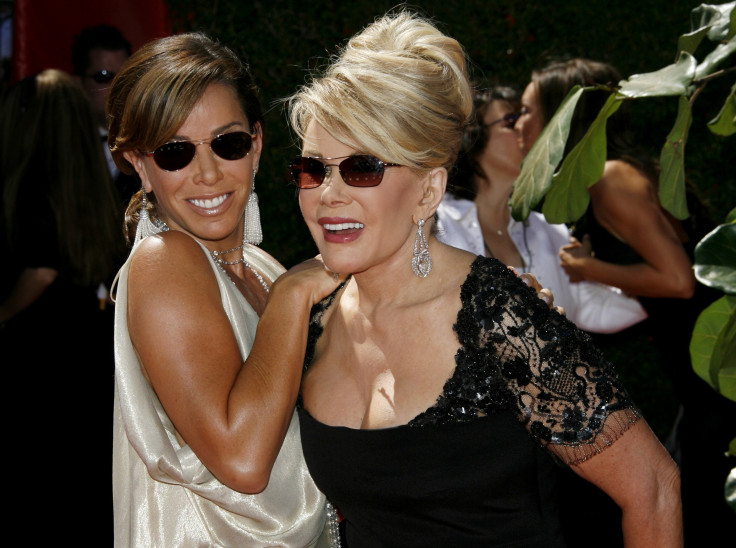 Comedian Joan Rivers was content with the life she had lived. Rivers told her daughter, Melissa Rivers, that she had an "amazing life" before going into surgery in 2012 during her WE Tv reality show "Joan & Melissa: Joan Knows Best."
"If anything happens, Melissa, I'm no chicken," she said. "I've had a great life. I've had an amazing life. If I died this morning, nobody would say 'so young.' You're a terrific person, Cooper's fine, you're all fine, I've had an amazing life. If it ended right now, amazing life, and you've been wonderful and we've had a great ride together. If something happens, things are fine, and life is fine. And life is so much fun, it's one big movie, and you've been just great."
Joan Rivers, 81, died Thursday a week after being rushed to Mount Sinai after going into cardiac respiratory arrest during a visit to her doctor for throat surgery.
"It is with great sadness that I announce the death of my mother, Joan Rivers. She passed peacefully at 1:17 p.m. surrounded by family and close friends. My son and I would like to thank the doctors, nurses and staff of Mount Sinai Hospital for the amazing care they provided for my mother," Melissa Rivers said in a statement. "Cooper and I have found ourselves humbled by the outpouring of love, support and prayers we have received from around the world. They have been heard and appreciated. My mother's greatest joy in life was to make people laugh. Although that is difficult to do right now, I know her final wish would be that we return to laughing soon."
Rivers was transferred from the intensive unit and upgraded to a larger suite Thursday, a friend tells the Daily News. The hospital space was "decorated by celebrity wedding planner Preston Bailey with flowers, bows, plants," her close friend Cindy Adams said. The room also included a white faux-mink blanket. In addition to having a luxurious room and getting her makeup and hair professionally done, her dogs were allowed to visit her.
© Copyright IBTimes 2023. All rights reserved.