Joan Rivers Revealed Her Funeral Wish List In Book 'I Hate Everyone…Starting With Me'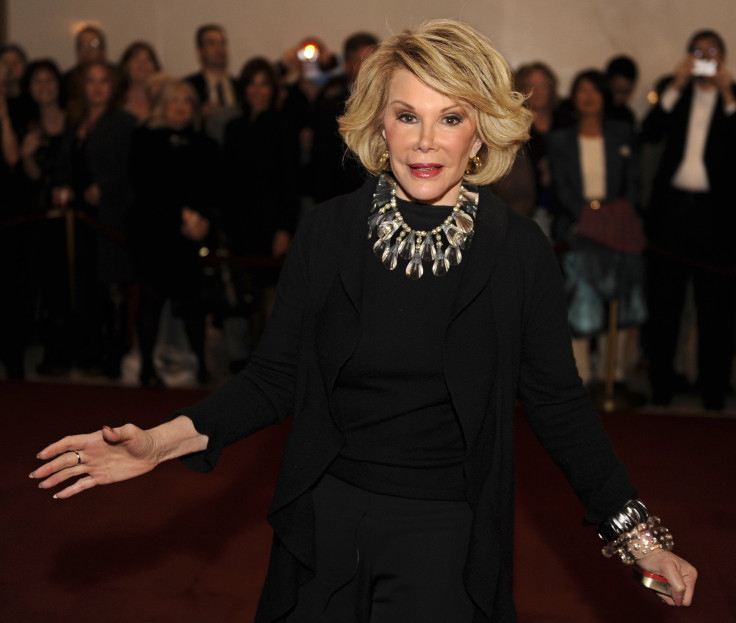 Comedian Joan Rivers, who passed away Thursday at the age of 81, wrote about how she wanted her funeral to go in her 2012 book "I Hate Everyone… Starting with Me." Rivers died after spending nearly a week at Mount Sinai Hospital in New York on life support.
"When I die (and yes, Melissa, that day will come; and yes, Melissa, everything's in your name,)" Joan wrote in her book, addressing her daughter Melissa Rivers, "I want my funeral to be a huge showbiz affair with lights, cameras, action."
The television host also reportedly gave out details about how she would want her star-studded funeral to be like, writing that it should be "Hollywood all the way" with "Craft services," paparazzi, and stating: "I want publicists making a scene."
"I don't want some rabbi rambling on; I want Meryl Streep crying, in five different accents," Rivers added. "I don't want a eulogy; I want Bobby Vinton to pick up my head and sing 'Mr. Lonely.'"
The "Fashion Police" host also reportedly wrote about how she would like to look like at her funeral.
"I want to be buried in a Valentino gown and I want Harry Winston to make me a toe tag. And I want a wind machine so that even in the casket my hair is blowing just like Beyoncé's," Rivers reportedly wrote in her book.
Rivers also reportedly said that funerals gave a chance for mourners to make a fashion statement with the "basic black," which is "bold enough to draw attention away from the bereaved but subtle enough so that no one knows that it's happening. And, it's a great way to have quiet fun."
Expressing her views about funerals, Rivers wrote: "I love funerals! To me a funeral is just a red carpet show for dead people."
Rivers, who was hospitalized following a throat surgery, had also joked about dying just a few hours before a minor procedure on her vocal cords. During a comedy act at the Laurie Beechman Theater in New York, Rivers joked about dying on stage.
"I'm getting so old … I am now 81 years old. I could die at any second. Pufft, like that. I could go like that."
Rivers' funeral will reportedly take place on Sunday at Temple Emanu-El in Manhattan.
© Copyright IBTimes 2023. All rights reserved.