Joe Biden Will Wear This Designer To 2021 Presidential Inauguration: Report
KEY POINTS
Ralph Lauren will dress Joe Biden for his inauguration on Jan. 20, a report says
The president-elect's suit for the ceremony is expected to be dark in color
Vice President-elect Kamala Harris is expected to wear a tailored pantsuit for the swearing-in ceremony
Joe Biden will wear a custom-made suit by an all-American designer on Inauguration Day, a report says.
On Jan, 20, Biden will be sworn into office on the steps of the Capitol while wearing a suit by Ralph Lauren, WWD reported. Insiders told the outlet that his ensemble will be made in Rochester, New York, by the Hickey Freeman manufacturing company.
Biden's suit for the ceremony is expected to be dark, with the president-elect usually favoring navy. Most incoming presidents also picked navy as their color of choice for their Inauguration Day suits, per the report.
Biden's style has garnered praise from fashion experts and insiders. "In the long tradition of American menswear, Joe Biden taps in and effortlessly exudes confidence, style and grace that permeates through his clothes. True Americana," said Virgil Abloh, artistic director of menswear at Louis Vuitton and founder of Off-White, as quoted by GQ Magazine.
Fashion designer Tommy Hilfiger also praised Biden's outfits for being "timeless, traditional, sophisticated but cool." For him, the president-elect and his wife, Jill Biden, are the epitome of the American dream.
"I appreciate Joe's statement accessories, such as his aviator sunglasses – they're iconic. Leaders come in all forms. Not everyone needs to be dressed in a shiny tailored suit; many leaders are equally impactful in street style or preloved pieces. It's most important to dress authentic to who you are, rather than for audience approval," Hilfiger said.
Meanwhile, 41 of the past 45 presidents were dressed by Brooks Brothers, including Abraham Lincoln, John F. Kennedy, George H.W. Bush, Bill Clinton and Donald Trump, WWD noted.
During his inaugurations in 2009 and 2013, Barack Obama also wore a Brooks Brothers coat, scarf and gloves. However, his suit for the first ceremony was designed by Hart Schaffner Marx, which was based in his hometown of Chicago.
Vice President-elect Kamala Harris is expected to sport a perfectly tailored pantsuit during the ceremony. However, it is unlikely that she will be wearing her signature Converse sneakers for such a formal occasion, Us Weekly noted.
Just recently, Harris appeared on Vogue's magazine cover wearing a pantsuit and sneakers. However, the cover was met with criticism on social media, with netizens accusing the magazine of disrespecting Harris. Social media users took issue with the styling, lighting, quality and colors of the backdrop for Harris' cover, which was reportedly a tribute to her sorority days.
Despite this, fashion designers are expecting Harris, along with Biden, to show some striking looks in the future.
"Both Joe and Kamala Harris do tailoring very well and it will be refreshing to see suits worn in a chic and powerful manner, something we haven't seen from the American political powers in some time. I see some gorgeous, sharp tailoring in our future," said Michael Halpern.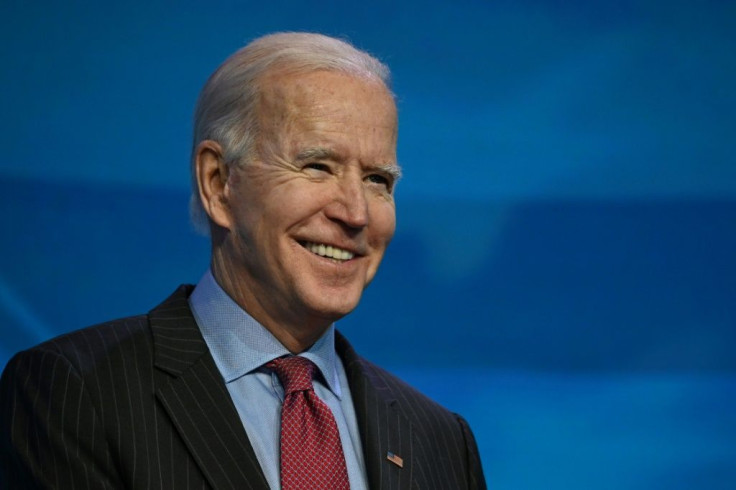 © Copyright IBTimes 2023. All rights reserved.