John Legend Dons Bunny Costume For Early Easter Celebration, Dances With Daughter Luna
KEY POINTS
John Legend donned the traditional costume of Easter Bunny
The singer's daughter Luna recognized him
The father-daughter duo danced to Estelle's "American Boy"
John Legend, who is popular for being a doting father, has now gone the extra mile to make Easter special for his 4-year-old daughter Luna Stephens.
Legend took to Instagram on Saturday to post a video of him dressed as the Easter Bunny to surprise Luna. The 42-year-old singer shared the video of him and Luna dancing together, with the caption: "She knew it was me."
In the video, after making a couple of dance moves, the singer took his little girl's hands and spun her around. The father and daughter duo dance to Estelle's "American Boy," which featured Legend in the music video.
Legend shared another picture in which his wife, Chrissy Teigen, is seen sitting on his lap while he is still dressed as Easter Bunny. The singer is clutching his Legend Vineyard Exclusive (LVE) wine bottles, and the photo is captioned, "She suspected it was me as well. Perhaps it was the @lve_wines."
Teigen also took to Instagram to share similar candid pictures of her sitting on her husband's lap. She captioned the pictures, "my bunny."
Teigen has been making headlines recently for various reasons including quitting Twitter and having sex with her husband at the Democratic National Convention.
The 35-year-old model appeared on James Corden's "The Late Late Show" on March 26 and during the "Spill Your Guts" segment, admitted, "One time at the Grammy's, I said that we had sex at that Obama thing, and that came out wrong."
"Because what I actually meant was it was that Obama thing but it wasn't like with them or near them. I believe it was the DNC actually … It was in the bathroom. It was a while ago," she explained.
Teigen also reflected on the reason behind quitting Twitter and explained how she was "deeply bruised."
"It's time for me to say goodbye. This no longer serves me as positively as it serves me negatively, and I think that's the right time to call something," she tweeted. "I've always been portrayed as the strong clap back girl but I'm just not."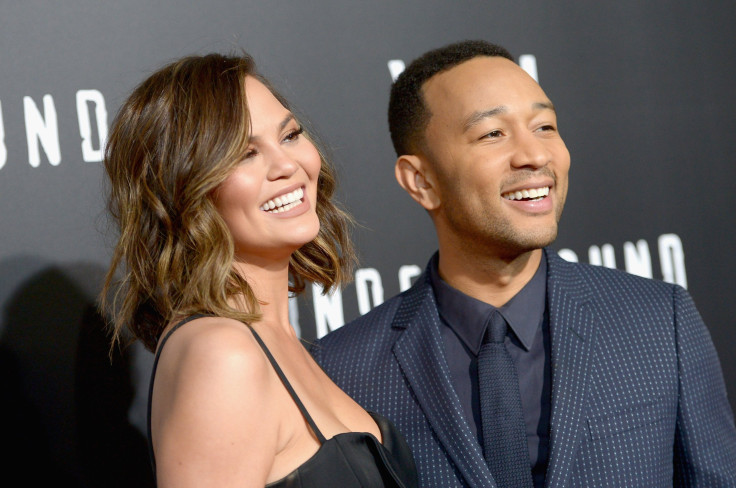 © Copyright IBTimes 2023. All rights reserved.