John Mahoney Cause Of Death: 'Frasier' Actor Dead At 77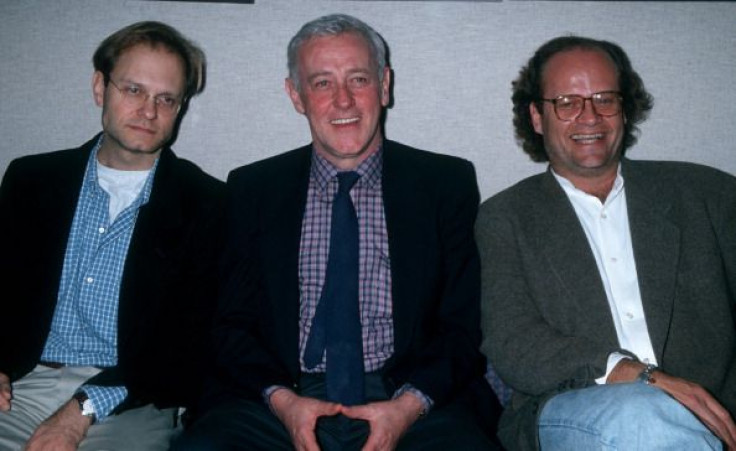 UPDATE: 6:46 a.m. EST — Chicago Tribune reported Mahoney died after being hospitalized due to complications arising from throat cancer. After the production of Frasier wrapped up in 2004, Mahoney who deplored living in Los Angeles led a quiet life in Oak Park, Chicago, where he died early Sunday morning.
Original story:
John Mahoney, who played the cantankerous father Martin to haughty son Frasier Crane in the sitcom "Frasier," died Sunday in Chicago after being hospitalized early in the same day. He was 77 years old. Mahoney's death was confirmed by his publicist Paul Martino; however, the cause of death wasn't immediately announced.
Mahoney was best known for his role as a cranky dad to Frasier, played by actor Kelsey Grammer. The sitcom had a successful run from 1993 to 2004. His role in the show won Mahoney a Screen Actors Guild Award. He was also nominated for two Emmy awards and two Golden Globe awards.
Mahoney was born during World War II in Blackpool, England, in 1940. According to reports, after graduating high school Mahoney moved to the United States and joined the army at the age of 19.
He started his acting career on stage in 1977 at the age of 37 in a play "The Water Engine." A highly-gifted actor, he garnered high praise and recognition on stage when he won a Tony award for his performance in the "House of Blue Leaves."
Mahoney's first major acting role came in 1987 in a Barry Levinson film named "Tin Men." His most prominent film role, for which he is widely remembered, was "Say Anything," which is ranked one of the greatest modern romance movies. Mahoney played Diane Court's father in the movie.
He breathed life to every role he played. Although he started his career late in the industry, he left a lasting impression on everyone.
People in the industry who had known the actor for years expressed their sympathies and took to Twitter to offer their condolences on his death.
Casting director Jeff Greenberg tweeted, "I've not known a kinder man nor more brilliant actor. We were all blessed to have spent 11 glorious years together."
Cameron Crowe who directed Mahoney in "Say Anything" also wrote a heart-warming message in Twitter.
Gary Sinise a theatre veteran best known for his roles in "Forest Gump" and "CSI: New York," who also co-founded the Steppenwolf Wolf theatre to which Mahoney had strong ties, said, "Our old friend and Steppenwolf theatre colleague John Mahoney passed away yesterday. So many wonderful plays together over the years. A wonderful actor I'll never forget his 1985 performance in Orphans (Chicago and New York)."
© Copyright IBTimes 2023. All rights reserved.