Johnny Bananas Denies Being On Drugs During 'Challenge Rivals 3' Finale, Slams Partner Sarah's Behavior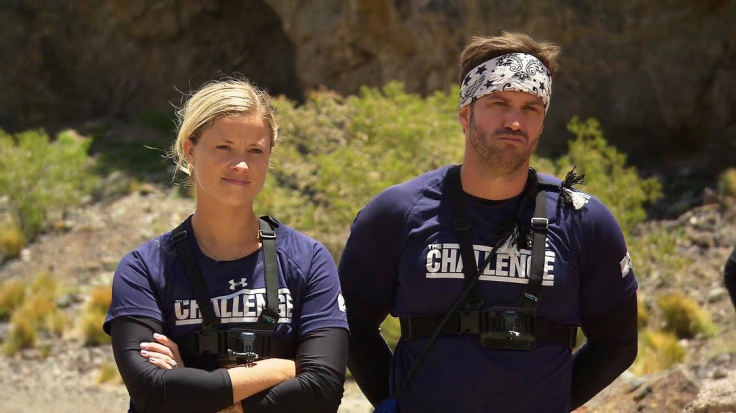 Johnny "Bananas" Devenanzio made one of the most cunning moves in "Challenge" history Wednesday by choosing to keep his team's first-place prize money for himself in the "Rivals 3" finale. While some MTV viewers slammed him for his decision not to split his winnings with his partner, Sarah (Rice) Patterson, she took a different approach in responding to the vet's move.
At the "Rivals 3" reunion taping in New York last month Sarah accused Johnny or being fined by the network for having Adderall in his possession during the finale. The reality star also hinted her partner may have used said drugs to his advantage during the show's final leg. MTV told International Business Times, who attended the taping, there was no proof to back up Sarah's claims and now Johnny is finally speaking out about her comments.
While speaking about the up-all-night portion of the final during an appearance on the "No Quitters" podcast, Johnny commented his ability to sleep was a dead giveaway he was not on drugs. "First of all, if I was on Adderall I wouldn't have been able to sleep," he explained, saying he slept more than his partner, despite knowing staying up longer and standing on the ledge provided during the challenge would have awarded him two extra points. "If I would have taken Adderall I would have been Sarah you stay asleep on night, I'll be on this motherf---er until the cows come home."
Johnny continued to discredit Sarah's claims, calling her behavior post-finale "disgusting." While he admitted he was unsportsmanlike after she sent him home in 2015's "Exes 2," he says what she's done has been worse.
I'll admit. I was a little butt hurt about it. I needed a tampon. But hey, man, it was a kick to the dick at the time. The way she's reacted to this, her reaction to what has happened to her, is a thousand times worse than the way I reacted. She's done everything she's could to try and just attack me personally and try to tarnish my reputation by making these crazy false accusations. They're not even called Adderall, they're called PEDS. I don't think they even know what PEDS are. All these claims are completely unfounded. They even did, I guess this reporter asked someone at MTV and the other cast, nobody even, she's the only one making these riduclous claims! She's going to do anything she can to try and justify why I won. It's like Sarah, take it on the chin. You got outsmarted. You got outstrategized. You had something that you could hold over my head and I got you back and just own it. The more you whine about and the more you try and make excuses and try attack me personally and bring s--- in that's just totally false it's just makes her look even worse.
Johnny did more than respond to Sarah's drug claims on the podcast, he also defended his actions in not sharing his team's prize money, the largest in the show's history. The "Challenge" star said the decision to keep the $275,000 pot for himself was decided halfway through the final. During the overnight challenge Johnny says he pondered if his "broken, half-a-- friendship" with Sarah off the show was worth $137,000 and ultimately decided it wasn't. He did admit, however, that if they came into the show already friends or if their rivalry had never happened on "Exes 2" he probably would have split it.
Johnny added that if the call would have been Sarah's to make, he's not confident she wouldn't have done the same thing. "Anyone that says she wouldn't have done it is spending way too much time around open cans of paint. She's done it before. Whose to say she wouldn't do it again?" he reasoned.
Ahead of making his decision known during the final, Johnny says he knew he would be vilified but decided the hate was worth it. "I knew right after, regardless of how I felt, and everyone was looking to me, I was like a week from now, two days from now, when I'm not in Argentina from now, when that check shows up in my mail box all of this is going to feel like a bad dream," Johnny said, calling his speech one of the most intense moments in his life.
As for why he hasn't gone dark on social media since the finale aired, Johnny says he's decided to own his role on the show. "If I'm going to be a villain, if they're going to put me in that role, then there ain't no shame in owning it."
© Copyright IBTimes 2023. All rights reserved.