Jon Stewart Final Episode: Fans Talk About 'The Daily Show' Host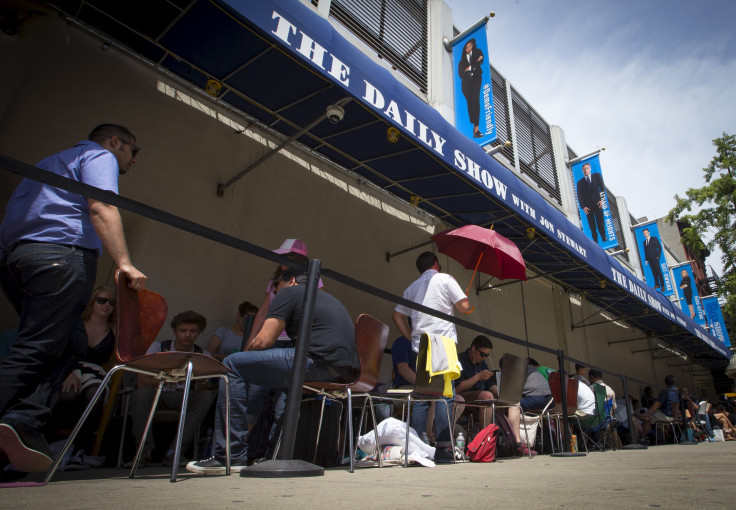 While stationed in South Korea and Qatar for military service, Roxanne Walker wasn't able to watch much television, least of all American cable. But there was only one show she always heard about from friends back home that she wished she were able to see: "The Daily Show with Jon Stewart."
"I don't know what I'll do when he's gone," Walker, now nine years out of the military and an avid fan of the long-running Comedy Central show, lamented Thursday. "I'm not really a fan of having to find new things."
Walker, like dozens of other Stewart fans, lined up outside "The Daily Show" studio on the far west side of Manhattan in New York City, waiting for a chance to see Stewart's farewell epsiode. While some fans had snatched up reservations for the show as soon as they became available, others got there early to wait in line, hoping to be among the lucky few to fill out the rest of the 200-person studio for Thursday night's finale. With lawn chairs and blankets, inflatable beds and coolers, fans filled up the otherwise quiet neighborhood, crowding multiple blocks hours before knowing whether they would be let in.
For 16 years, Stewart, 52, has played the straight man to global absurdities, illuminating the world's illogicalities, admonishing its injustices and chuckling along to its many punchlines. But Stewart will end his reign as host of "The Daily Show" Thursday night, marking the end of a political era defined for viewers by his withering takedowns, biting satire and intense skepticism for politics and mainstream media.
"He makes light of a serious situation so everyone can grasp it," said Walker about her support for "The Daily Show" and Stewart. "Plus he's pro-veteran," she added proudly.
Stewart's personality and sense of humor inspired many of his fans, who said he was the show's biggest draw and that it would be hard for Trevor Noah, the South African comedian slated to take over the show Sept. 28, to fill his shoes.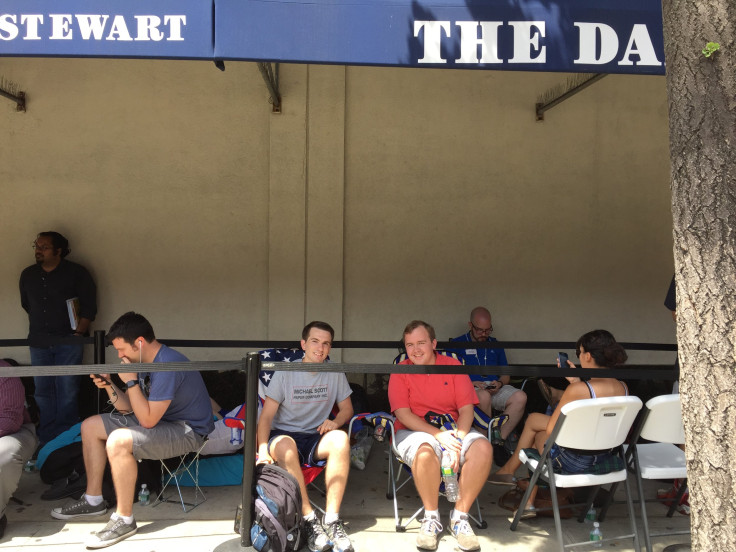 "He's the funniest man on television," Michael Weber, a recent college graduate living in New York City, said of Stewart. Weber said he would watch the first few episodes with Noah as host, but acknowledged that he was a little apprehensive.
Bryan Powell, who accompanied Weber, agreed, describing Stewart as "one of those guys that you just enjoy."
While the last guests on his special 50-minute show Thursday night were not named in advance, many fans guessed there would be a big celebration for the New Jersey comedian's departure.
"I'm expecting some kind of extravaganza," Mariam Erenburg, a 41-year-old manager at American Express, said of the finale. "I think there's going to be a parade of stars and former correspondents."
Erenburg first sat in the studio audience of "The Daily Show" in April 1999, when Stewart interviewed Angelina Jolie. Sitting in a lawn chair at the end of the block Thursday, she had arrived outside the studio with a friend at 10 a.m. -- hours before the evening taping began. It was easy, she said, nothing like the experience of the people at the front of the line, who had spent the night.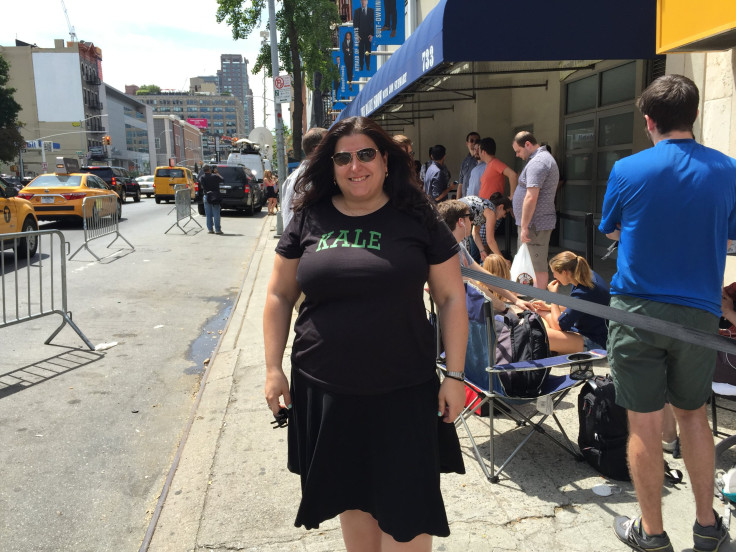 Several fans acknowledged that while they considered themselves to be devotees, they generally streamed the show online or watched clips on YouTube rather than watch the full episode on Comedy Central.
Alonso Cordoba, a professor at Brooklyn College, said he used to watch the show every night since discovering it in 2001, but in recent years he mostly watched clips online. Powell said he found out about "The Daily Show" through the Internet while still in high school.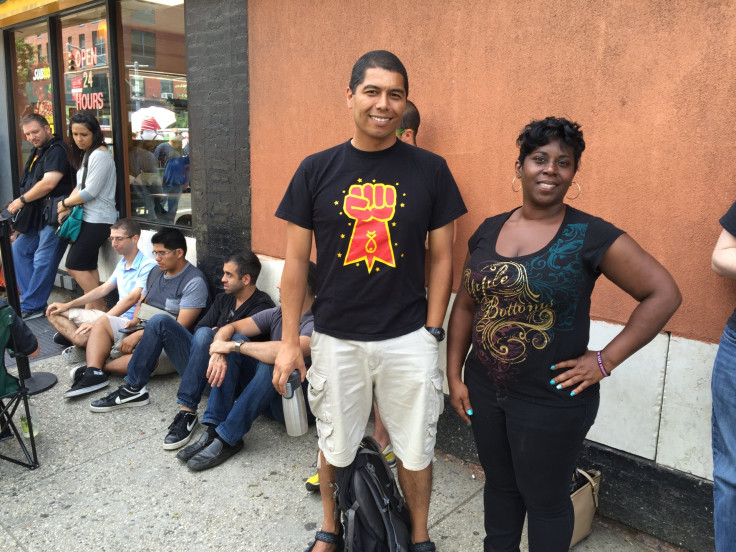 Despite creating intense devotion among fans, Stewart and "The Daily Show" have also faced criticism, particularly from conservatives, who describe the show as self-righteous and misinformed. The fake news show, which initially did not generate much traction, began rising to national prominence during Stewart's coverage of the 2000 presidential election and his searing attacks on the George W. Bush administration. Critics have suggested that Stewart downplays his political influence and uses his position as a comedian to avoid the scrutiny normally associated with mainstream commentators. But many of the fans awaiting the final taping saw "The Daily Show" as a supplement to the news rather than as the primary source.
"I don't think you can understand Stewart unless you know the news before he covers it," Cordoba said. "It's more of an exposé on the lies that Fox News says."
The show "was really important for people [in] my generation to create a narrative from the news, to figure out what's important and what might not be generally discussed," Powell said.
As he waited in line, Cordoba was circumspect about what will replace Stewart in the national discourse, wondering if anything will be able to be a substitute for "The Daily Show" host's irreverent humor and critical eye in political commentary.
"There's definitely going to be a vacuum," Cordoba said. "They have other shows that will hopefully fill in the space, but it won't be the same without Jon Stewart."
FOR FREE to continue reading
✔️ Unlock the full content of International Business Times UK for free
offer available for a limited time only
✔️ Easily manage your Newsletters subscriptions and save your favourite articles
✔️ No payment method required
Already have an account?
Log in
© Copyright IBTimes 2023. All rights reserved.