Josh And Anna Duggar Release Video Together After 'Counting On' Star Gives Birth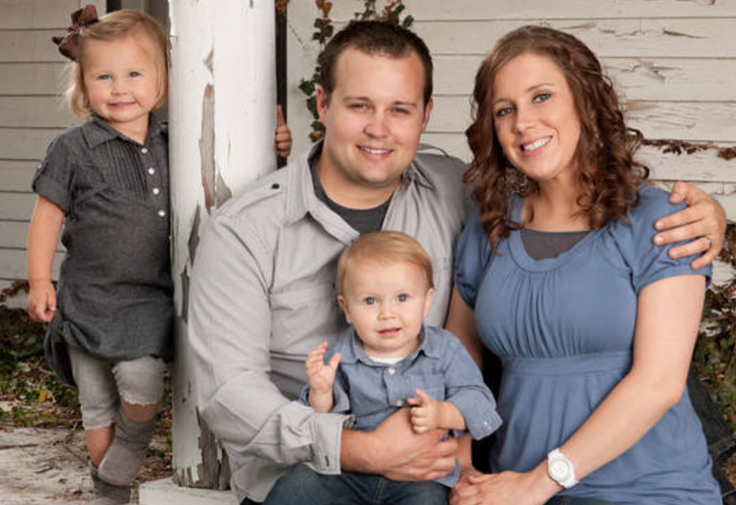 Josh Duggar is inching his way back into the spotlight. The Duggar family released a video of the former "19 Kids and Counting" star congratulating his sister on the birth of her newest son on YouTube on Tuesday.
As the Duggars usually do following a big event, several Duggar family members sent well wishes to Jill and Derick Dillard following the arrival of their second son, Samuel Scott, on the Duggar Family YouTube page. Four days of the little one's arrival, Josh and his wife, Anna Duggar, made a surprise cameo on the account to also share their message with fans.
"We are so excited for you guys on your new arrival,"Josh says in the video, marking his first appearance on the channel in several months. "We are thrilled that Samuel Scott and the kids are excited to have another cousin to join the herd," Anna says. "We are so excited for you and we look forward to all that god has in store for your little life, Samuel."
READ: Josh Duggar Makes Cameo On In-Law's YouTube Channel
The couple's 4-year-old son, Marcus, also congratulated Jill and Derick. "I'm so happy to have another cousin," the boy says in the clip.
"It's so good to see this family in good spirits. Always rooting for Josh and Anna," one fan wrote after the video was released. "Great to see you all together again on media. Life goes on people make mistakes we shouldn't judge if all is forgiven. I think getting back out there will be the way for you all to overcome all negativity!" reads another comment.
Not every Duggar fan was thrilled to see Josh again, however. "Whoa whoa not ready to see that creep," reads the video's top comment. "No one is interested in what a felonious child sexual abuser has to say!" reads another.
Josh has been absent from the limelight since the summer of 2015 when it was revealed that he had sexually molested several girls when he was a teenager. It later came to light that some of his victims were his sisters, including Jill and Jessa Seewald.
TLC responded to the controversy by canceling the family's long-standing reality series "19 Kids and Counting." In 2015, the network gave Jill and Jess their own spinoff titled "Counting On." And while Anna has appeared on the program with her children several times, Josh has never made an appearance.
READ: When Is Anna Duggar Due?
Josh's video comes months after it was revealed by In Touch Weekly that he was itching to get back on TV. In May, it was reported that Josh's dad, Jim Bob Duggar, had convinced the network to allow his son to appear in a webisode for "Counting On." The video was supposed to show Josh discussing his joy about becoming a father for the fifth time.
"Nobody thought TLC would ever allow him on again," a source told the publication at the time. "[Jim Bob] spent a month trying to convince TLC that Josh should be back on the show. They finally caved."
Anna is due to welcome her and Josh's baby boy later this year.
© Copyright IBTimes 2023. All rights reserved.