When Is Anna Duggar Due? Josh's Family Stays Silent On Baby No. 5 Pregnancy Updates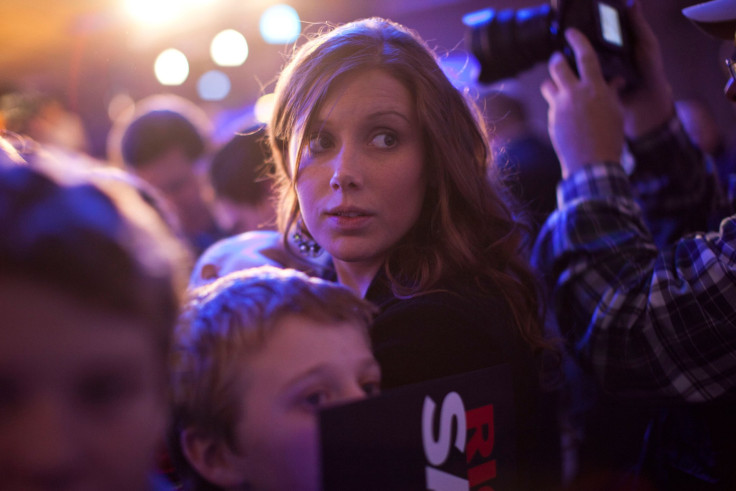 Before Josh Duggar was the face of the Duggar family's biggest scandals to date, updates on Anna Duggar's pregnancies weren't uncommon. Now, with Josh no longer starring on TLC and Anna no longer a lead on the spin-off series "Counting On," updates about the family six of are few and far between.
In March, Anna and Josh announced that they would be expecting their fifth baby together. The couple did not share a due date, only revealing their baby boy would make his debut later this year.
READ: Joy Duggar's Secret Wedding Plans Revealed
"For nearly the last two years, we have quietly worked to save our marriage, focus on our children, and rebuild our lives together as a family. Doing so is never easy after a breach of trust. We've learned that a life of faith and rebuilding a life together is simply done one day at a time," the couple wrote in a blog post.
"As we continue our journey as a family and rebuild our lives, we are delighted to share with you that we are expecting a new baby boy later this year. Beauty comes from ashes and we cannot wait to see and kiss the face of this sweet new boy!"
The reveal came after two years after the couple attended marriage counseling following Josh's trip to rehab, his admittance to using the affair website Ashley Madison and the bombshell report that he had molested five girls as a teen.
While it has yet to be unconfirmed by the Duggars when Anna is due to welcome their fifth child, the couple has been known to announce their pregnancies early in the past. On their firstborn Mackynzie's first birthday in October 2010, the couple announced they were expecting their second child. Eight months later, their son Michael was born, meaning Anna was just four weeks pregnant at the time of their pregnancy announcement.
Similarly, Anna and Josh announced they were expecting their fourth child, daughter Meredith, in December 2014 and confirmed that at the time, Anna was 9-weeks along.
If the couple followed the same announcement timeline for baby No. 5, that means Duggar fans should expect Josh and Anna's new baby boy to make his debut this fall. However, it is entirely possible the pair waited to announce their new baby long after discovering they she was pregnant, meaning their son could be born sooner than speculated.
Josh and Anna have been keeping a low profile since his initial scandal in May 2015. While Anna has appeared on various episodes of "Counting On," and has addressed her marriage with Josh while doing so, Josh hasn't made an appearance. He last appeared on TV on his family's original TLC series "19 Kids and Counting," which was canceled following the molestation scandal.
Despite his lack of cameos on the show, a new report has suggested he may be prepping for a comeback. Earlier this month In Touch Weekly reported that Josh's dad, Jim Bob Duggar, fought to get him a webisode for TLC. The online episode in question would reportedly show Josh talking about his joy about becoming a father again.
© Copyright IBTimes 2023. All rights reserved.