Josh Duggar Says 'It's Nice To Have Another Sister' After Brother's Wedding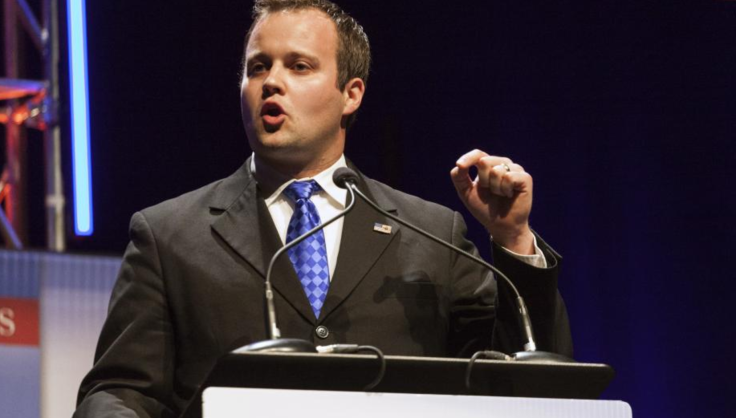 Josh Duggar made a rare appearance on the Duggar Family YouTube channel over the weekend following his brother Joe Duggar's wedding to Kendra Caldwell. Alongside his wife Anna Duggar, Josh appeared in a video congratulating the newlywed couple on their marriage.
"It's nice to have another Duggar sister," Josh says in the footage. "We carry on that last name."
Anna, who is due to deliver her and Josh's fifth baby in the coming days, also revealed she is excited to have another female in the family. "We love you guys so much and we're just so thrilled. I've been waiting for a long time for another Duggar boy to get married and to have a new sister-in-law. I'm just thrilled to have you, Kendra, as my new sister-in-law. We look forward to lots of double dates in the future!"
While Josh, who has been absent from the Duggar family's show "Counting On" since its TLC premiere due to his molestation and cheating scandals, said he expects a lot more of his male siblings to marry. "So that's two out of the 10 boys now that are married. There's a lot more to go," Josh said. "There's a lot more Duggar weddings in the future."
Josh's YouTube cameo comes several weeks after he made another rare appearance on the channel. In July, he, Anna and their children filmed a congratulatory video following Josh's sister Jill Dillard's delivery of her and husband Derick's second child.
Josh and Anna were far from the only Duggar family members to post their congratulations to Joe and Kendra on the channel over the weekend. "It's been so special being here with ya'll and getting to celebrate," Jessa Seewald said alongside her husband Ben. Like Anna, Ben also suggested they pair go on a double date.
"We're so excited for you. Kendra, we can't wait for you to be a part of our family," Joe's eldest sister, Jana Duggar, said in a video alongside their younger sisters. "Joe, I know that you're going to make a great husband. We're all just so thrilled for this day," she added.
"Married life is incredible," Joy-Anna Forsyth, who allowed her brother Joe to propose to Kendra at her and Austin Forsyth's wedding in May, said in a video. "We can't wait to see ya'lls relationships develop and just please the Lord and honor your parents. So happy that this day is here. So excited to see what the future holds," Austin added.
Of course, Joe's parents, Jim Bob and Michelle Duggar, also posted their own message. "I am so excited for Joe and Kendra," Jim Bob said. "They really have the foundation of the Lord..."
"We are rejoicing with the two of you and we're so excited," Michelle added. "Lord willing, 33 years from now, just like mom and dad, maybe you guys will be giving away one of your kids in marriage. We hope many, many more grand babies will be coming. We are just so happy for ya'll."
Jim Bob concluded by telling the couple to "be fruitful and multiple."
© Copyright IBTimes 2022. All rights reserved.
FOLLOW MORE IBT NEWS ON THE BELOW CHANNELS