Joy-Anna Duggar's Husband Shows Off Wife's Pregnant Baby Bump In New Photo
Joy-Anna Duggar's husband Austin Forsyth has shared a pregnancy update about his wife with the world on Instagram. The "Counting On" star's husband posted a new shot of the pregnant Duggar daughter on social media Thursday evening, which showed an updated look at her baby bump.
"One year and a day ago I sent Joy these flowers while I was at flight school," Austin wrote in the caption. "It's amazing how life can change in just one year."
The post include a shot of Joy, 19, holding a large bouquet of roses with the white vase touching her baby bump. In the shot, Joy is standing in front of a doorway that reads "Isn't Life Beautiful."
"I am so blessed to have a wife that loves Jesus and me," Austin continued the post, ending with the hashtag "#Godisgood."
"Counting On" fans have responded to the post with positive messages for the expecting pair. "So sweet & sentimental," one fan rote. "I wish much happiness for your family dear Austin and Joy!!! You are very good people," wrote another. "Congratulations on y'alls new addition! Babies are simply wonderful. God bless!" reads another comment.
Austin's post comes just over a week after the couple announced they're expecting their first child. "Before we even were married we were praying that God would give us kids and we're so thankful that he has," Joy said in a video for the TLC network.
Austin added his own statement, saying, "We're so happy to announce that we're pregnant. When we found out we were pregnant we were both extremely happy and felt blessed."
After their video was released, Joy took to Instagram to share an additional message with fans. "The baby has arms, legs, fingers, and toes. It has a beating heart and brain waves. The baby responds to touch and is already right- or left-handed. The baby has its own unique fingerprints, which are different from anyone else's. All organ systems are in place!" she posted to her and Austin's shared account. Her post also included another look at her growing baby bump.
The pair's new addition, who's gender has not yet been revealed, is due in 2018. (Joy-Anna is speculated to have an early-year due date.) While fans will have to wait to find out if Austin and Joy will be welcoming a baby girl or boy, they have already started predicting the sex.
"There's kind of been a trend with having boys in the family. I think we're going to break it and have a girl," Austin told TLC. "I think it's a boy," Joy countered.
Austin and Joy married on last season of "Counting On." The couple's journey will continue on Season 3 of the docuseries which premieres on TLC on Monday, Sept. 11.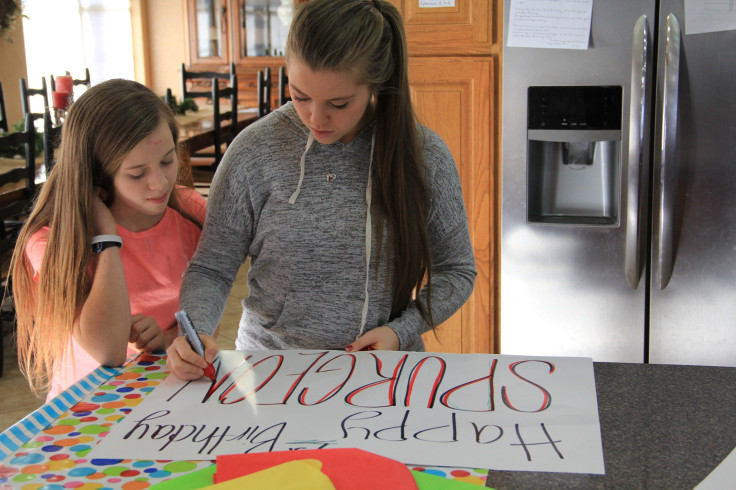 © Copyright IBTimes 2023. All rights reserved.