Josh Hamilton Rumors: New York Yankees Looking To Sign The Free Agent?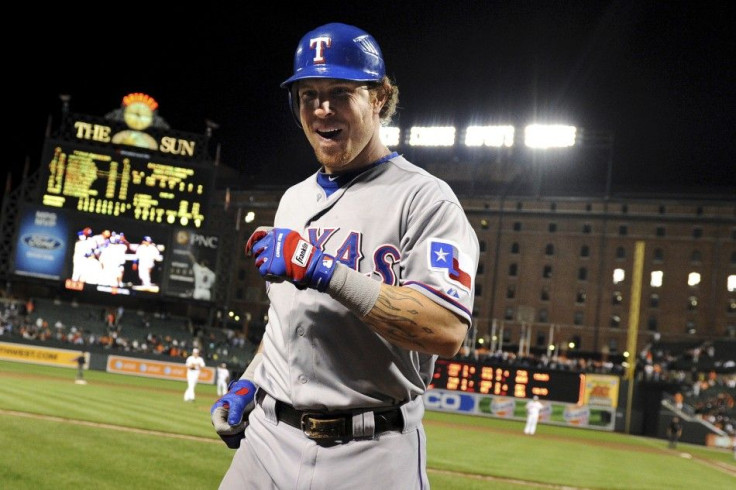 For one of the first offseasons in recent memory, most people have assumed that the New York Yankees will not go after the most high-profile free agents. Players like Josh Hamilton and Zack Greinke have been linked to teams like the Los Angeles Dodgers, Baltimore Orioles and Boston Red Sox, but the Yankees name has often been left out of these reports.
Team owner Hal Steinbrenner has made it known that he wants the club's payroll down to $189 million by 2014, so they can avoid paying luxury tax penalties. It would be hard for New York to trim payroll if they were to hand out another large contract.
However, there are some in baseball that do feel the Yankees will make their usual big splash.
ESPN's Jim Bowden believes the Yankees may sign Hamilton. According to ESPN New York's Andrew Marchand, the insider feels general manager Brian Cashman is "laying in the weeds," waiting to make his move.
There is a way for the Yankees to sign Hamilton without adding much salary. New York could trade one of their star players to make room for Hamilton's contract.
While there haven't been many rumors about the Yankees trading one of their top players, there have been some rumblings that the team would listen to offers for Curtis Granderson. The outfielder will be a free agent after the 2013 season, and New York is likely to let him walk.
It wouldn't be out of the realm of possibility for the Yankees to trade Granderson for a package of young hitters. With players like Derek Jeter and Alex Rodriguez almost at 40 years old, New York is in desperate need of some young bats.
Trading Granderson would free up the money to sign Hamilton. If Hamilton is looking for a 10-year deal, like some have speculated, New York may have no chance to sign him. Others, though, feel that Hamilton's issues away from the field will cause teams to offer him no more than five or six years.
Based purely on his talent, Hamilton might be the highest-paid player in the majors. Since entering the league in 2007, he has a .304 batting average and a .549 slugging percentage. Hamilton won the 2010 American League MVP award and hit 43 home runs in 2012.
Other than his history of substance abuse, the outfielder's injury problems may also cost him some money. In six seasons, he's averaging 122 games per season. He missed the final month in 2010, and sat out 41 games the following year.
The Texas Rangers may be the frontrunners to keep Hamilton. The Red Sox, Orioles and Seattle Mariners are also said to be in the mix.
© Copyright IBTimes 2023. All rights reserved.