Josh Powell's Chilling Message before Hatchet Attack on Sons and Explosion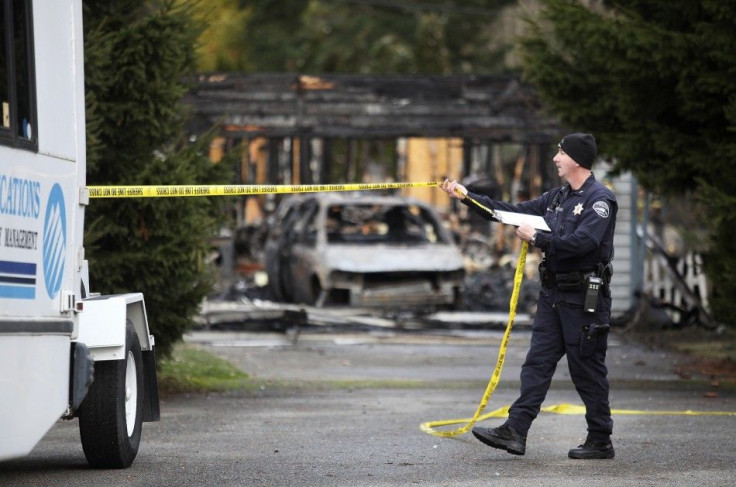 A chilling recording of what is believed to be the final message Josh Powell left for family members before he took a hatchet to his two young sons and caused an explosion on Sunday, may provide details as to why Susan Powell's husband committed the double murder-suicide.
Hello, this is Josh. And I'm calling to say goodbye, Josh Powell is heard on the voicemail message obtained by ABC News. I am not able to live without my sons. And I'm not able to go on anymore. I am sorry to everyone I've hurt. Goodbye.
The message was reportedly left 20 minutes before Josh Powell killed sons Braden, 5, and Charles, 7, and then killed himself by blowing up a gas leak at his Washington home.
Fox News reported that Washington authorities have said that Josh Powell's sons had severe chopping injuries to their heads or necks as they died in a house fire set by their father. Moreover, the Pierce County Medical Examiner's Office stated smoke inhalation was the primary cause of death for the two boys.
The three deaths add a tragic end to the problems Josh Powell was facing and are also another bizarre twist to the case of his missing wife Susan Powell.
Josh Powell was being investigated as a person of interest in the disappearance of his wife Susan, who has been gone since 2009. She allegedly went missing from the West Valley City, Utah, home she shared with her husband on a snowy December night. Josh Powell has said he took his sons out during the terrible weather and returned home to find Susan had vanished.
Lost Custody of the Boys
Following his wife's disappearance Josh Powell lost custody of the two boys last fall, when a court ordered that they remain in the custody of Susan Powell's parents Chuck and Judy Cox.
Josh Powell was living with his father Steven Powell, who was arrested last year on 14 counts of voyeurism and one count of child pornography. The images were reportedly found in the home where Josh Powell was staying with his father along with the boys.
Reports are that the boy's maternal grandparents were awarded custody because they felt Braden and Charles were living in a dangerous home environment with sexually explicit material. Josh Powell tried to get his sons back, but was also told by a judge last week that he must undergo a psycho-sexual evaluation before considerations are made.
Supervised Visit
Graham Fire and Rescue Chief Gary Franz has said that the explosion at Josh Powell's house happened just after a Child Protective Services worker brought the two boys for a supervised visit.
Powell is accused of letting the two boys into the house and refusing the case worker entry into his home. The case worker smelled the gas and called her supervisors to report it. Pretty soon the house was on fire.
This was all on him, Pierce County sheriff's spokesman Ed Troyer said. He set this up. He did it.
Josh Powell also sent an e-mail to his lawyer stating, I'm sorry. Goodbye.
John Hallewell, who was a best friend to Josh Powell, told ABC News that the father of two likely didn't cause the explosion out of revenge against his wife Susan.
I don't think it could have been for revenge, Hallewell said. I think it was more a case where he thought he was in a corner and didn't have a way of keeping the kids, and thought, 'if I can't have them nobody's going to.' I don't think he even thinks enough about anyone else to do it for revenge.
Alina Powell, the sister of the deceased issued a statement to the media noting that, Josh and his boys spent more than two years being crushed alive by hate, harassment, and abuse. None of us could have anticipated the devastating tragedy that took place Sunday, but what this unimaginable loss shows is that hate will never end well. Hate kills.
© Copyright IBTimes 2023. All rights reserved.
FOLLOW MORE IBT NEWS ON THE BELOW CHANNELS