Jozy Altidore Injury Update: Hamstring Sidelines U.S. Forward, While Landon Donovan Is Not On The World Cup 2014 Team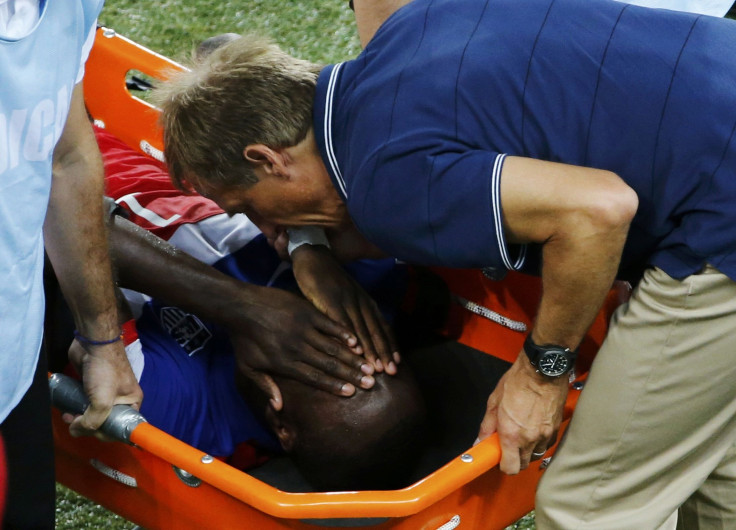 The omission of Landon Donovan from the U.S. Men's National Team roster has been perhaps the most contentious issue of head coach Jurgen Klinsmann's tenure. The debate over whether Donovan should have made the trip to Brazil for the 2014 World Cup picked up even more traction this week.
When Jozy Altidore went down with a hamstring injury in the 23rd minute against Ghana in the Yanks' first game of the 2014 World Cup, second-guessing Klinsmann's roster decisions likely hit an all-time high. Donovan, arguably the greatest American player ever, would have been the obvious substitute for Altidore if he was selected to the roster.
Altidore received a scan to determine the extent of his left hamstring injury on Tuesday, but doctors have yet to determine how long he will be out. On ESPN, broadcaster and former Dutch striker Ruud van Nistelrooy speculated that Altidore would be out four-to-six weeks, effectively ending his World Cup.
"I was sprinting and I felt something, and we'll see what happens," said Altidore after the game. "Of course it was tough for me, I was crushed. I knew right away I couldn't continue, so that was probably the worst feeling."
Klinsmann hasn't given up hope the Altidore could return for the tournament. Hamstrings are often hard to diagnose, and the possibility remains that the injury is not as severe as it looked.
"We are full of hope that he can come back still in this tournament," Klinsmann said. "How quickly, that is down to the healing process."
Like Altidore, Donovan plays in the attack and has plenty of experience as a forward. There was an overriding opinion leading up to the roster selections in May that Donovan could have at least played a substitute role for the Yanks. But Klinsmann decided to go with Aron Johannsson and veteran Chris Wondolowski, and even left off Terrence Boyd, a rising star for Rapid Wien.
Johannsson entered the Ghana match for Altidore without much time to warm up. In the second half, though, the 23-year-old failed to make much of an impact and did little to make up for how the U.S. was struggling to control the ball and mount an attack. With Altidore sidelined, Johannsson will see more action, putting the pressure on Klinsmann's decision.
Johannsson certainly deserved consideration for a roster spot after a fine season with AZ Alkmaar. He scored 20 goals in 39 appearances for the Dutch squad since arriving in Jan. 2013.
Wondolowski's inclusion also raised eyebrows. He didn't see action against Ghana, and has very little playing experience outside of Major League Soccer.
Meanwhile, Donovan, 32, has not played at his top form this season, but is still a smart player with a great knack for scoring. He also would have served as an experienced forward who can perhaps mentor young players at the position.
But if there is any coach in the World Cup who knows forwards it is Klinsmann. The former Germany striker was one of the best goal-scorers of his era. He also has head coaching experience in the World Cup after leading the German team in 2006 with famed forwards Miroslav Klose and Lukas Podolski, both of whom are on the current German roster eight years later.
It's unclear if Klinsmann will give Johannsson another shot as a starter, or if he goes with Wondolowski, who has never played a minute of a World Cup. Neither option will appease Klinsmann's detractors, some of whom remain convinced that there were other motives for his decision to snub Donovan.
Klinsmann may have no other choice but to play Clint Dempsey as a lone forward. Dempsey, who may wear a mask for the rest of the tournament after his nose was broken during the Ghana match, is more than capable of thriving in such a scenario.
Should Dempsey take over the striker duties, it could mean that 19-year-old Julian Green sees playing time in the attacking midfield or on the wing. The German-American was a surprise inclusion to the World Cup roster due to his youth and inexperience. It would be a bold move by Klinsmann, but with matches against Portugal and Germany on the schedule, he may have no other choice but to do something bold.
Green plays for Bayern Munich, a club that Klinsmann happened to play for in the 1990s. It's also perhaps the deepest club in the world at the moment.
Green has just two caps for the U.S. and might be the most intriguing player to make a U.S. roster since Donovan, due his unique and exceptional skill set. Green has been praised for his creativity and pace, which was considered a weak spot off Klinsmann's bench.
In the meantime, the U.S. will hope for a speedy recovery for Altidore.
© Copyright IBTimes 2023. All rights reserved.