'Jurassic World': Bryce Dallas Howard Tells How She Learned To Run For Her Life In Heels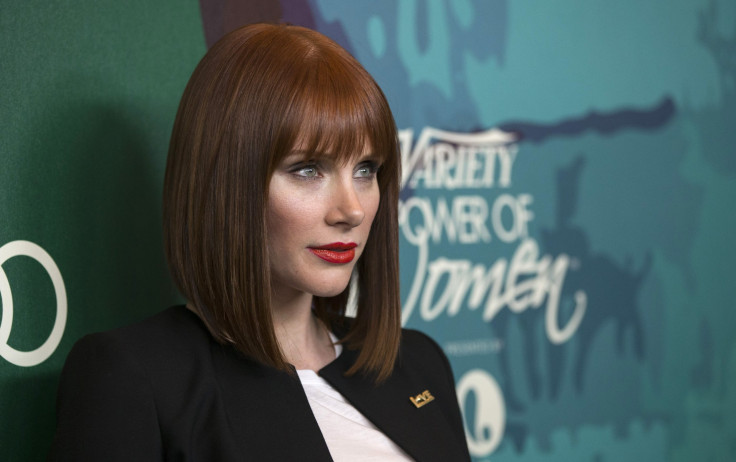 Bryce Dallas Howard, who plays Claire Dearing in "Jurassic Park's" fourth installment, "Jurassic World," took training from a professional athlete for her role. She has to run in heels to escape the hybrid dinosaur Indominus Rex, and it was UFC champion Pete Williams, who was working on the set as her driver, who coached her.
"He was so helpful, because as someone who is a professional athlete, he really knew how to take care of your body. And I was like, 'Hey man! I've got to do all this heel running, can you give me some tricks?' And he was awesome, and really helped me," she told Cinema Blend.
Howard learned to balance her foot on a board and practiced catching balls while leaning on one foot. Howard's character, Dearing, is the parks operation manager and puts her work over her nephews, who come to visit her at the park during their Christmas holidays.
According to Howard, Dearing starts out as an unlikable character, but she changes with time.
"During the journey she reconnects with herself and her greatest power. And I thought, 'You know, I think realistically, she would be a woman who could really handle herself in heels.'… I just had to kind of rise to the occasion for that, because I'm not somebody that can run in heels," said Howard.
"Jurassic World" opens Friday. Colin Trevorrow directs from the story by Rick Jaffa and Amanda Silver, based on the characters created by Michael Crichton. Chris Pratt plays Owen Grady, a velociraptor trainer. Also in the cast are Vincent D'Onofrio, Ty Simpkins, Nick Robinson, Omar Sy, B. D. Wong, and Irrfan Khan.
The film centers on Indominus Rex, who escapes the park securities and creates havoc on Isla Nublar. Pratt and others must contain the hybrid before it poses danger to human life.
© Copyright IBTimes 2023. All rights reserved.
FOLLOW MORE IBT NEWS ON THE BELOW CHANNELS