Justin Bieber Shows 'Believe' Tattoo On 'Letterman,' 'Late Show' Host Disapproves Of 'Boyfriend' Singer's New Ink [VIDEO]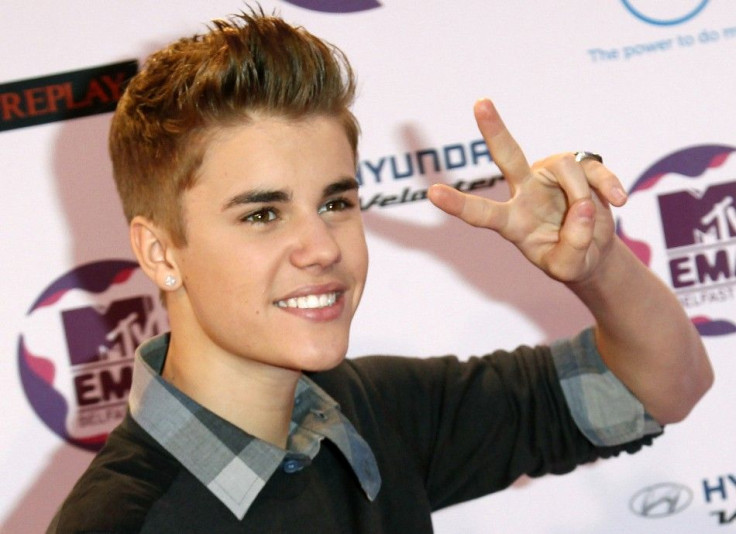 Justin Bieber appeared on David Letterman and received disapproving remarks from the Late Show host Thursday night.
Bieber showed off his new Believe arm tattoo to Letterman, who appeared to become cantankerous about the 18-years-old's fresh ink.
At one point, the 65-year-old host reached over and grabbed the singer's arm, in an effort to dissect the body art, causing Bieber to scream out in pain.
Letterman continued to give Selena Gomez's boyfriend a hard time.
The interview culminated with Letterman advising Bieber not to go nuts [with the tattoos] ... because more and more you see like the mural ... like the Sistine Chapel, it's too much.
Letterman was referring to a Michelangelo painting, which is widely considered one of the most famous places in entire world.
Seemingly confused, Bieber replied by suggesting that he is not going for the Sixteenth Chapel.
At that rebuttal, Letterman started laughing and eventually made a remark seemingly aimed at the school system in Bieber's home country -- Canada.
Ahh, Canadian high school, the host joked.
While the Boyfriend singer did not seem too amused, he shined on a smile and even gave Letterman a fist bump -- a common sign of solidarity.
The teenage heartthrob is riding high on the success of his new album Believe.
The new release is Bieber's third full-length album and contains 13 new tracks aimed at showing a more mature side of the young artist.
The album's first single, Boyfriend, debuted on Billboard's Nielsen BDS-based Pop songs chart at No. 20 with 3,961 first-week plays, marking the best first-week total for a song by a male artist in the chart's nearly 20-year history.
Just three weeks later, Boyfriend became Bieber's first format Top 10, after eight prior chart entries, according to Billboard.
Believe received three out of five stars from Rolling Stone's Jon Dolan, who says that the best song on the album, Thought of You, has it both ways, combining the impulse to wait with the impulse to get down into a pure-pop fever dream.
© Copyright IBTimes 2023. All rights reserved.