Kaley Cuoco Opens Up About Nude Photo Hack, Says 'Big Bang' Co-Stars Helped Her Laugh Off Leak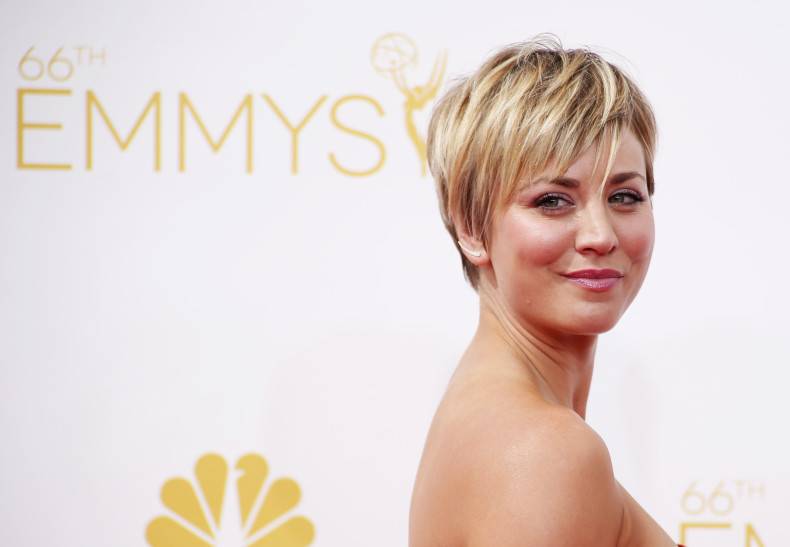 Two weeks after several nude photos and videos of actress Kaley Cuoco-Sweeting and dozens of other female celebrities were leaked on the Web, "The Big Bang Theory" star is opening up about the scandal, calling the hack "disturbing." Cuoco-Sweeting, 28, said that the support of her co-stars, as well as humor and social media, helped her deal with the leak of the illegally obtained images. She appeared on "Jimmy Kimmel Live" Thursday.
"Every day there's like 30, 'Kaley Cuoco Nude Photos.' It's been going on for years. There's all these fake ones," said Cuoco-Sweeting, who admitted a Google alert of her name informed her of the leak. "Then this one came up and I'm like, 'Oh, it's another fake one'. Then I started getting emails like, 'No, there's some real ones going around.' So I looked at it and I was like, 'Oh, my god. There are some real ones!"
Cuoco-Sweeting said she addressed the leak to her family via email before poking fun at the hack on social media. "It was just a really bad situation, but I took it into my own hands and made a joke about it because, you know, what are you going to do?" she said.
Cuoco-Sweeting posted a fake naked photo to Instagram via the app Nudifier after the hack and has since received over 36,700 likes for the image on Instagram. The actress says her "Big Bang" co-stars helped her create the altered image using the censoring application. "I was actually shooting a scene for 'Big Bang' and I was with all the guys and it was the day after this nude leak happened," she said. "We're sitting there shooting in-between takes and they were helping me pick out the picture and what I should Nudify to get them back. … All the guys helped with this one. It was really great. You've got to make fun of yourself."
With the nude photo scandal behind her, Cuoco-Sweeting now has babies on the brain, she said on "The Ellen DeGeneres Show" Thursday. "We can't wait. We both love kids," she said of her and husband Ryan Sweeting's plans to have children. Despite her desire to expand her brood with the 27-year-old tennis professional, Cuoco-Sweeting said she is not currently pregnant and is instead focused on properly raising her animals, specifically her newly welcomed rescue pooch, Ruby. "I've lost this dog in the backyard so many times that I'm afraid I need to practice on not losing her so I don't actually lose my child. That's kinda what I'm kind of basing it on," she said. "I just figure that [when] I nail that down, then we can have a baby."