Kansas City Royals vs. Houston Astros: Start Time, TV Channel, Live Stream Info For Game 1 Of 2015 ALDS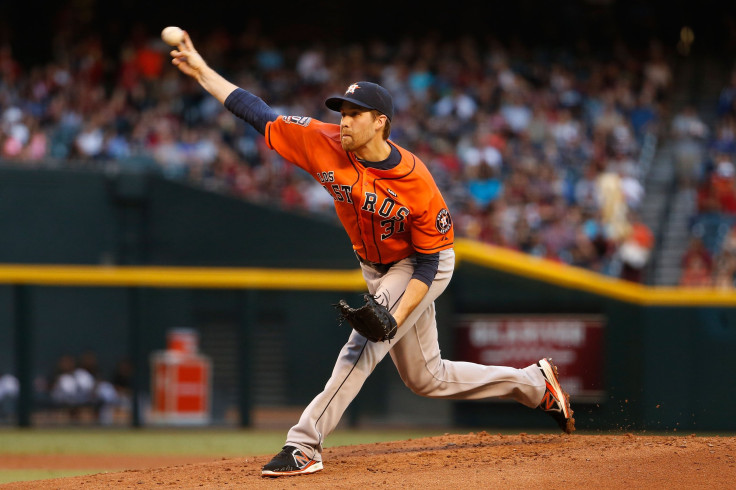 In a Cinderella season, the Kansas City Royals reached Game 7 of the 2014 World Series, coming within a run of their first title since 1985. Now the Royals are playing the role of favorites as they put their American League pennant on the line against this season's upstart, the Houston Astros, starting with Thursday night's Game 1 of the AL Division Series at Kauffman Stadium.
Ned Yost's squad improved last year's mark by six games for a 95-67 record, third-best in team history. It was their first division title in 30 years and by a hefty 12 games.
Houston brought in manager A.J. Hinch and hoped to flip their fortunes just as quickly as Kansas City did last season. And the Astros roared to an 86-76 record and a wild-card berth, a 16-game jump that snapped a nine-year playoff drought.
And just like the Royals a year ago, the Astros began the playoffs with a wild-card victory, powering past the New York Yankees, 3-0, behind starter Dallas Kuechel's three-hit shutout.
Houston next turns to putting one of the AL's highest scoring clubs on its heels early, with 19-game winner Collin McHugh taking the mound against the Royals' Yordano Ventura.
Though he never faced Kansas City in the regular season, the 28-year-old McHugh fired off a career season with a 3.89 ERA and 171 strikeouts over 203 2/3 innings. And he's faced lots of playoff-like pressure over the last five weeks. McHugh's won five of his last six starts and helped Houston fight off the Los Angeles Angels for the final wild card.
Ventura, who was the opening day starter but struggled for stretches early this season, has three wins in his last five starts and hasn't allowed more than three runs in his last four starts. He finished with a team-best 156 strikeouts and tied Edinson Volquez with 13 victories over 28 starts.
Unlike McHugh, the 24-year-old Ventura turned in a dominate performance against Houston this season. Back on July 26, Ventura allowed one earned run and struck out five with no walks over seven innings in the Royals' 5-1 victory.
First Pitch: 7:37 p.m. ET
TV Channel: Fox Sports 1
Live Online: FoxSportsGo
© Copyright IBTimes 2023. All rights reserved.