Kanye West And Kim Kardashian Slam Beck's Grammy Win, Hug Taylor Swift At Award Show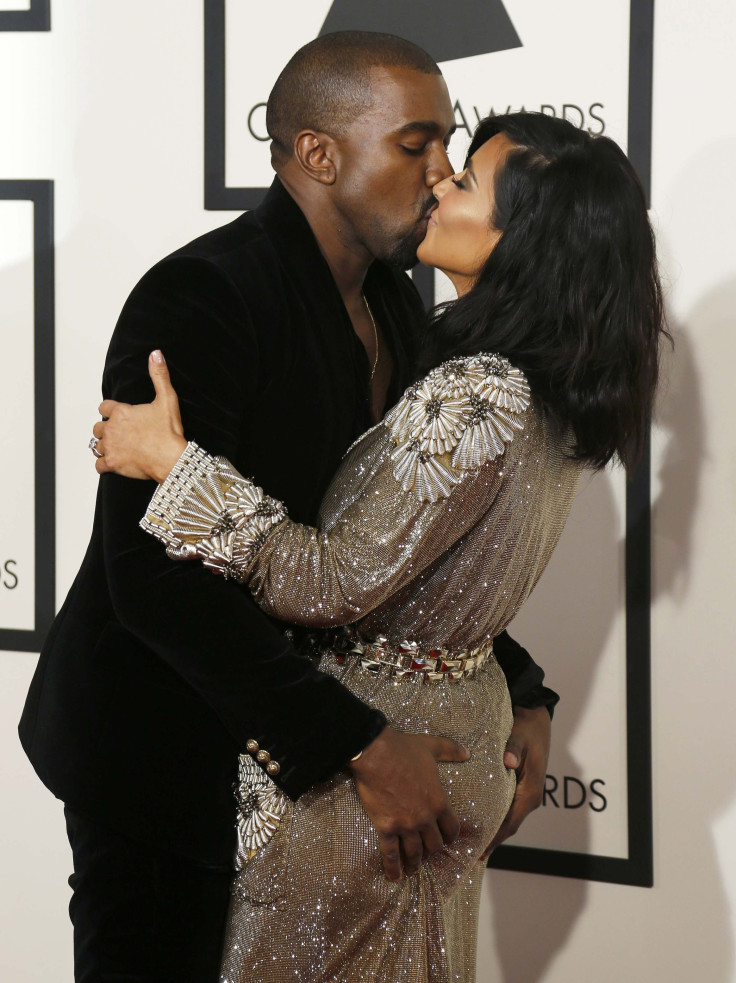 Kanye West and Kim Kardashian had quite an eventful night at the 2015 Grammys on Sunday. After flaunting their love with some very public displays of affection, Kanye took the stage to perform with Rihanna and Paul McCartney and later debuted a new song. But what's really got everyone buzzing is Kanye and Kim's dissing of Album of the Year winner Beck.
When Beck's "Morning Phase" was announced as the winner of that award, rapper West started to run up on stage to defend his friend Beyoncé, who was also up for Album of the Year. West famously interrupted Taylor Swift at the 2009 Video Music Awards after Swift beat Beyoncé for Best Female Video. Those two have apparently made amends, though, as West was spotted hugging Swift during the ceremony.
It seemed West was making a joke when he ran up on stage but then quickly turned around and took his seat., while Beck laughed and called him back up: "I need some help. Come back."
Despite the laughter, Kanye was indeed trying to make a point, explaining in an interview on E!'s after-show that he thought Beck should have given his award to Beyoncé. "I just know that the Grammys, if they want real artists, to keep coming back, they need to stop playing with us. We ain't gonna play with them no more," West said. "And Beck needs to respect artistry and he should've given his award to Beyoncé."
"At this point, we tired of it," West continued. "Because what happens is, when you keep on diminishing art and not respecting the craft and smacking people in their face after they deliver monumental feats of music, you're disrespectful to inspiration. And we as musicians have to inspire people who go to work every day, and they listen to that Beyoncé album and they feel like it takes them to another place."
While his wife stood quietly by his side during the interview, Kardashian took to social media later to join in the Beck diss, posting a reaction photo to Instagram and Twitter of her "Beck won that award face" with John Legend and Chrissy Teigen.
Meanwhile, Beck doesn't appear to be offended by Kanye's comments, as he'd even told Us Weekly before the show that he thought Beyoncé was going to win.
As for Kanye's decision to storm the stage? "I was just so excited he was coming up. He deserves to be on stage as much as anybody," Beck said at the Universal Music Group afterparty. "How many great records has he put out in the last five years?"
This wasn't West's first time dissing the Grammys. He has made similar comments several times. "I love Maroon 5, but when I lost Best New Artist to Maroon 5 … you know what I mean? Or when 'Watch the Throne' and 'Dark Fantasy,' neither of them got nominated for Album of the Year, you know what I mean? Or when 'N----s in Paris' didn't get nominated for Record of the Year, you know what I mean?" the artist said at a New Jersey concert in 2013, according to the Huffington Post.
© Copyright IBTimes 2022. All rights reserved.
FOLLOW MORE IBT NEWS ON THE BELOW CHANNELS