Kate Middleton Accused Of Enjoying 'Hollywood Time' By Meghan Markle's Fans
Kate Middleton has been subjected to criticism as fans continue to pit her against her sister-in-law, Meghan Markle.
One Twitter user posted that the Duchess of Cambridge was upset with the paparazzi taking pictures of her during her mom's birthday. On the other hand, the Duchess of Sussex was reportedly enjoying all the attention she was getting in New York during her baby shower. The user then maintained that the two situations shouldn't be compared.
However, the post irked Markle's fans and they posted photos of Middleton allegedly smiling at the paparazzi.
"Such a wonderful photo of Kate and William enjoying being photographed, posing and smiling at paparazzi outside the Carlyle Hotel in New York," one netizen shared on Twitter.
"Oh please look here! Kate Middleton is really enjoying her Hollywood time here!!!" another netizen wrote while sharing a snap of Middleton taken at the BAFTAs gala in Los Angeles back in 2011.
Middleton's fans defended her. One said that the photo taken outside the hotel in New York wasn't taken by the paparazzi.
Also, for Middleton's photo smiling during the BAFTAs, the future queen's supporters insisted that it was a public engagement and should not be compared to private events which paparazzi are after. There are reporters during public engagements and that's a given.
A different user stressed that the BAFTAs 2011 was not a baby shower, implying the huge difference between the two events. A baby shower was supposed to be private unlike the award ceremony that Middleton attended in the photo were she was accused of enjoying her "Hollywood" time.
Also, Middleton was accused of being a racist after using gowns from Gucci, D&G and Prada. All of the said brands were involved in racist controversies and the Duchess of Cambridge's decision to wear their designs didn't impress many, especially those who support Markle.
"Kate Middleton, the Duchess for the racists and the racist Duchess," one fan said before adding that Middleton must be loving the attacks that Markle received.
Another netizen called Middleton "Queen of Racist" and stressed that she doesn't see Prince William and Middleton coming out to defend Markle from her critics.
Markle's fans also criticized Middleton's white one-shoulder gown by Gucci at the recently concluded BAFTAs. They said it was "too vulgar" because the duchess didn't wear a bra and they saw her nipples.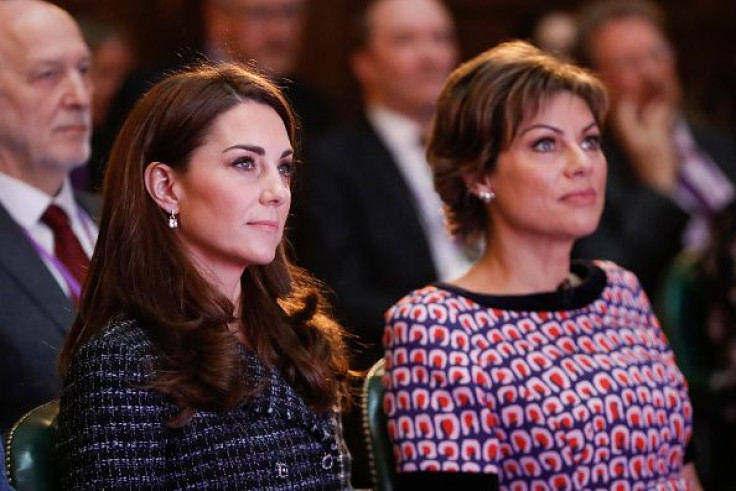 © Copyright IBTimes 2023. All rights reserved.