Kate Middleton Gets Heel Stuck In Grate; Talks Sex Of Baby Due In July [PHOTO]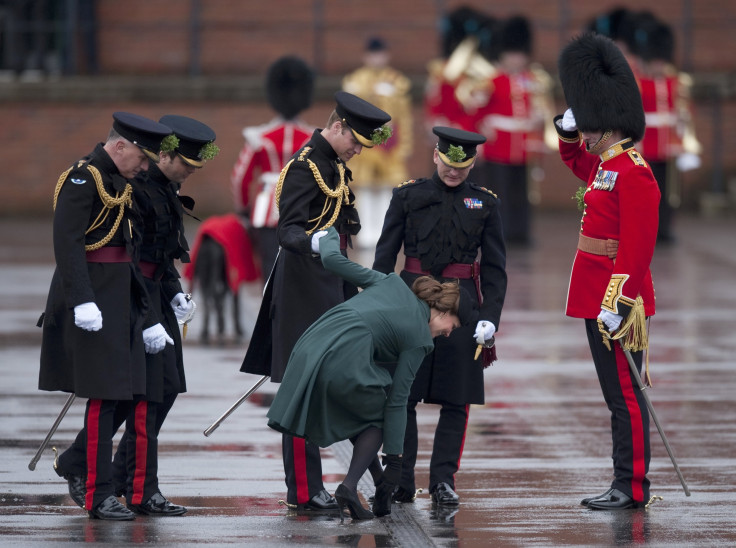 On St. Patrick's Day, Duchess Kate Middleton got her heel stuck in a grate while meeting Irish guards, but luckily husband Prince William was able to keep her from falling.
While handing out shamrocks to the regiment in southern England during a St. Patrick's Day Parade, Middleton got into the minor incident as the heel of her black shoe got caught in the grate. She had to briefly lean on Prince William as she removed her heel from the hole.
The tradition of handing shamrocks dates back to Queen Alexandra, the wife of then-king Edward VII, who began the event in 1901.
Meanwhile, the Duchess, who wore a green dress coat that hid her baby bump, also talked about her pregnancy at the parade, as she is due in July.
She said that she does not know the sex of her first child with Prince William, but is hoping for a boy. Prince William, on the other hand, is hoping for a girl.
"I asked her `do you know if it's a girl or boy?' '"said Guardsman Lee Wheeler, a soldier at the parade. "And she said `not yet',"' reports Fox. "She said `I'd like to have a boy and William would like a girl.' "'
However, earlier this month, rumors swirled after Middleton is said to have uttered the letter "d" while on her way to visit Grimsby, Lincolnshire. A woman handed Middleton a teddy bear, and told The Sun that the 31-year-old replied, "Thank you, I will take that for my d... for my baby."
© Copyright IBTimes 2023. All rights reserved.