Kate Middleton, Meghan Markle Announced Major News Fans Have Been Waiting For
Kate Middleton and Meghan Markle just made a major announcement.
The Duchess of Cambridge and Duchess of Sussex have been pitted against each other from their fashion choices to their royal engagements. On Friday, the palace made big news about the two duchesses.
"The Duchess of Cambridge, Patron of the All England Lawn Tennis and Croquet Club, and The Duchess of Sussex will attend the Ladies' Singles Final at The Championships, Wimbledon on Saturday 13th July," Kensington Palace announced on Twitter.
Middleton and Markle also attended the same event last year. It was their first solo outing as their husbands Prince William and Prince Harry didn't join them.
Again fans were quick to compare who between the two royals had a better outfit. Some netizens said that Markle had better taste than Middleton because her style was more modern, simple and clean compared to Middleton. Others said that Prince Harry's wife's fashion was classy and chic while Middleton was predictable and safe.
According to veteran royal photographer Mark Stewart who saw the two royals at the vent, there was no competition between the two duchesses because Markle let Middleton took the lead.
"She very much let Kate take the lead," Stewart said.
"There was no rivalry. It shows how well Meghan has adapted as she is aware that Kate will be Queen one day and her position is different."
If many prefer Markle's style last year, more and more are drawn to Middleton's fashion lately. Last Saturday, the Duke and Duchess of Sussex celebrated their son's baptism. However, the Duchess of Cambridge's stole their thunder just by dressing a pink Stella McCartney dress and a pair of red shoes.
When the netizens saw the official portraits from the event, they were quick to praise Middleton for her look. Many described the royal mom of three as "stunning", "amazing", "gorgeous" and "perfect."
However, according to body language expert Judi James, Middleton was determined to not upstage Markle on the event. However, it seemed that the Duchess of Cambridge failed because many noticed her more than Markle and she just outshone her sister-in-law.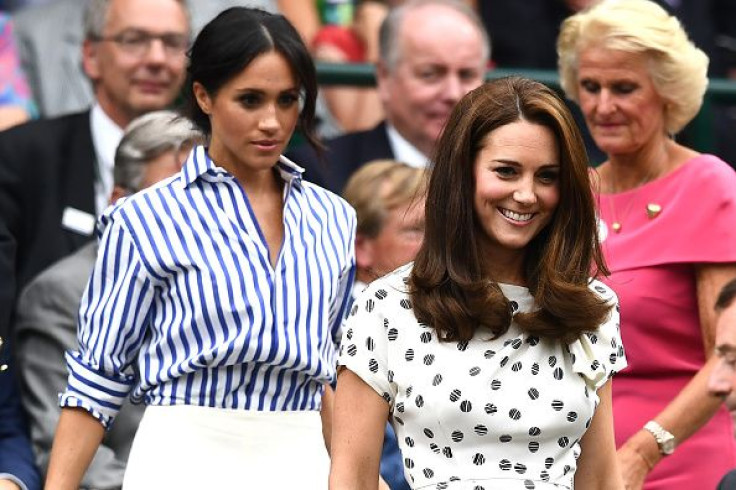 © Copyright IBTimes 2023. All rights reserved.