Kate Middleton, Meghan Markle Both Use This Pregnancy Fashion Trick [PHOTOS]
Kate Middleton and Meghan Markle have different styles during their pregnancies, but they use one particular fashion trick.
The Duchess of Sussex didn't follow the Duchess of Cambridge's maternity dresses. However, despite the differences, both use one particular pregnancy fashion hack and that's wearing short dresses.
According to Julia Mullaney, wearing dresses with shorter hemlines expose more of Middleton and Markle's legs which make their bodies look slimmer overall. Although pregnant moms are proud of their growing baby bumps and often embrace it, they still use some tricks to make themselves look as flattering as possible.
Both of the two duchesses also keep on wearing towering heels. Pregnant women are warned of wearing high heels because the last thing expectant moms want is an unexpected fall. However, it is okay for pregnant moms to still wear their favorite stilettos as long as they do not wear it past their level of comfort.
Middleton has a smart hack to wearing heels all day. The Duchess of Cambridge uses Alice Bow's leather insoles to enjoy her footwear. Alice Bow insoles are designed as a solution to "ugly or ineffective insoles."
Charlotte Balbier, a stylist, has found another similarity between the Duchess of Cambridge and Duchess of Sussex. According to her, their style is "totally polished, well thought through and perfectly pulled together."
However, London-based stylist Lauren Jobling felt that one of them kept her maternity style "classic" when it comes to their baby bumps.
"Kate, kept her style very classic, didn't bring too much attention to the bump and mainly wore A-line dresses to skim the bump. She kept with subtle tones and styles," Jobling said.
Prince Harry's wife was accused of "overdoing" her pregnancy by using her baby bump as a prop. Markle has been photographed touching her stomach and a number of netizens find it too much.
Markle was also caught on camera flicking her coat to expose her baby bump in one event. In the 14-second clip, Markle can be seen touching her coat three times to show off her baby bump.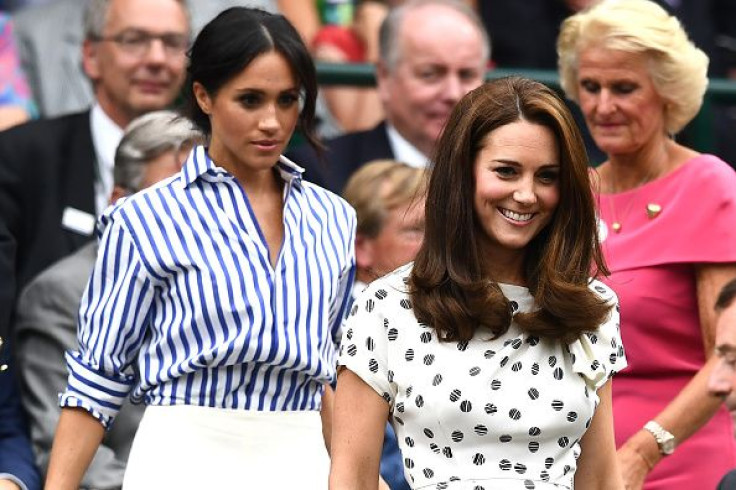 © Copyright IBTimes 2023. All rights reserved.