Kate Middleton, Meghan Markle's Upcoming Reunion Disappointing For This Reason
Kate Middleton, Prince William, Meghan Markle and Prince Harry's upcoming reunion saddened some fans who expected so much from the event.
On Monday, the palace announced the Duke and Duchess of Cambridge, and the Duke and Duchess of Sussex will be attending Queen Elizabeth II's reception at Buckingham Palace for Prince Charles' investiture. Royal reporter Omid Scobie also announced the news on Twitter and wrote, "Expect white tie!"
Royal fans were ecstatic as a number of them were looking forward to seeing Markle wearing a tiara because she never wore one except on her wedding day. However, the excitement didn't last long when some netizens also questioned the time of the event.
The celebration was scheduled late morning and it's unlikely to be white or black tie. So, it will not be a tiara event for Markle and Middleton.
"I know someone with an invite at I'm sure they said 'business suit'," Rupert Evelyn commented.
"Don't get my hopes up for Meghan's tiara moment @scobie," another netizen wrote.
In a follow-up, Scobie clarified his first post and apologized for raising the expectations of royal fans.
"With it being a daytime reception it's safe to say the dress code will be formal but far from a black/white tie," Scobie wrote.
Those who were very excited to see Markle wearing a tiara were a bit disappointed, but they were still excited to see the fab four's reunion at the event. A number quickly forgave Scobie. Some just laughed about it and joked, "You owe me a tiara."
Many thanked Scobie for the update about the Duke and Duchess of Sussex. He is among the journalists who joined Prince Harry and Markle on their trip to Morocco.
Unlike Markle, Middleton has been seen wearing a tiara in several events. The royal mom of three wore Queen Mary's Lover's Knot tiara in an annual winter party in December 2017. It's one of the largest parties that the Queen hosts annually.
Middleton also wore Princess Diana's Cambridge Lovers Knot tiara in a state banquet at Buckingham Palace for King Willem-Alexander and Queen Maxima of the Netherlands in October 2018. The Duchess of Cambridge was last seen wearing the headpiece for a reception honoring members of the Diplomatic Corps at Buckingham Palace back in December of the same year.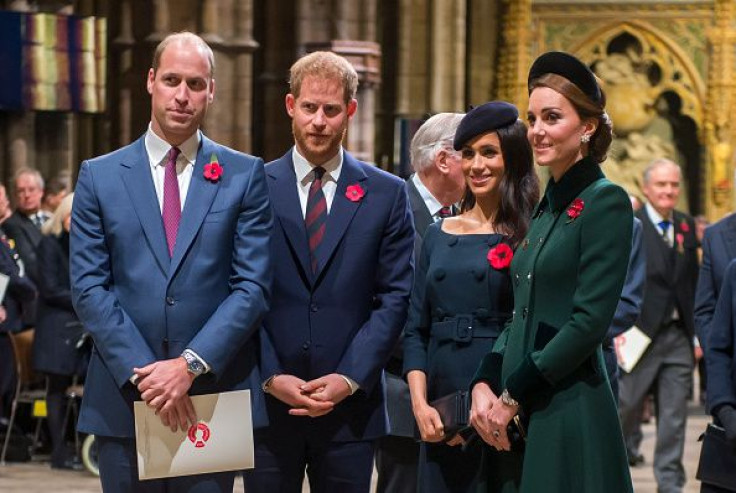 © Copyright IBTimes 2023. All rights reserved.