Kate Middleton, Prince William's Look Of Love Visible In These Photos
Kate Middleton and Prince William's love is visible in some photos.
The Duke and Duchess of Cambridge are not as tactile as the Duke and Duchess of Sussex. Prince Harry and Meghan Markle aren't shy in showing their affection to each other even in public. Prince William and Middleton are more reserved.
Even if the future king and queen rarely hold hands, they have been photographed having sweet moments several times. Elite Daily shared snaps of the couple staring at each other and hugging one another. In these photos, their love for each other is very visible.
2012 Olympic Games
In 2012, Prince William and Middleton watched the Olympic Games in London. They couldn't keep their hands off each other as they cheered along with fans for team Great Britain. The couple surprised many when they gave each other a hug after their team won the race.
After cheating scandal
Earlier this year, Middleton and Prince William's marriage was tested when reports about the duke's infidelity made headlines. He allegedly cheated on his wife with Rose Hansbury. However, the couple didn't show any signs of marital problems.
In July, the couple stepped out together at Wimbledon. According to those who saw Prince William and Middleton, they appeared more in love and happy despite the cheating rumors.
"Judging from a recent courtside appearance at Wimbledon, Kate and William's vibes are stronger than ever post-scandal," Cosmopolitan reported.
2019 Pakistan Tour
Last month, the Duke and Duchess of Cambridge made an official visit to Pakistan. Prior to their trip, the couple headed to King's Cross to meet Aga Khan, the 49th and current Imam of Nizari Ismailism, the largest segment of the Ismaili Shi'i Muslims. They also attended an event showcasing and celebrating the modern Pakistani culture.
In the snap below, they gave each other a sweet look while smiling. Aside from that, Middleton was spotted stroking her husband's shoulder in a rare display of public affection.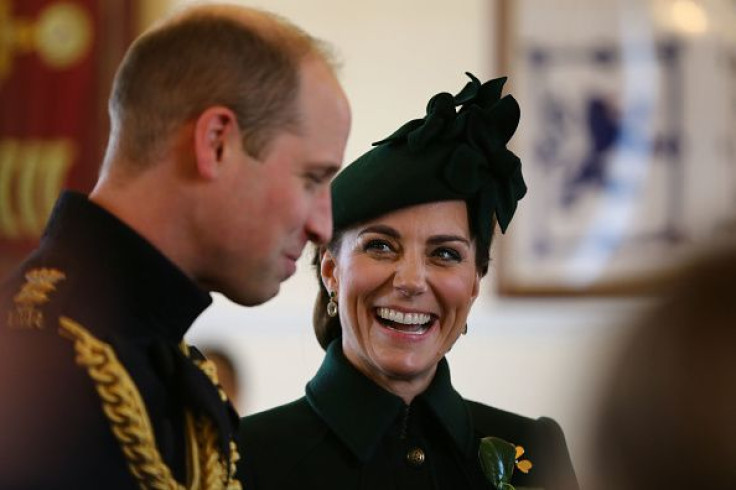 © Copyright IBTimes 2022. All rights reserved.
FOLLOW MORE IBT NEWS ON THE BELOW CHANNELS