Kate Middleton Talks To Doctors About Postpartum Depression Amid Third Pregnancy
Kate Middleton has made it her mission to help pregnant moms everywhere and recently showed interest in one illness that plagues many expectant mothers - postpartum depression.
On Wednesday, the Duchess of Cambridge visited the Maurice Wohl Clinical Neuroscience Institute at King's College London. Middleton toured the institute and talked to the doctors about the different challenges in dealing with maternal mental health like postpartum depression, biological factors affecting the mother's mental health and the support available for new moms, E! News reported.
"She was interested in the fact that we look at the whole range of issues including PTSD and self-harm," said Professor Louise Howard, who teaches women's mental health. "She was interested in understanding the whole breadth of the issues and how to make people more robust."
Aside from helping women with postpartum depression, the institute is also working on a new treatment to help those suffering from Alzheimer's disease, Parkinson's disease, schizophrenia and epilepsy. There was a short lighthearted moment when the professionals talked about using an avatar to aid individuals with schizophrenia deal with hearing loss.
"As in the movie 'Avatar'?" Middleton asked. However, the Duchess was told that the avatar is not similar to the ones shown in James Cameron's film in 2009.
Middleton is an active advocate of mental health. The royal mom-of-two is promoting the same advocacy for mothers. In November, Prince William's wife hosted a roundtable discussion on maternal mental health.
During the gathering, Middleton met with experts from Maternal Mental Health Alliance, Anna Freud National Centre for Children and Families and Royal College of Obstetricians & Gynaecologists. They talked about the different issues surrounding maternal mental health.
In related news during Middleton's recent engagement, the expectant mom donned a baby blue coat. On Tuesday, she also stepped out wearing a blue dress with matching blue scarf, shoes and jewelry. Many interpreted Middleton's choice of color as a hint that she is having a baby boy.
However, it is difficult to tell if the duchess is really making a statement when it comes to the shade of her dresses because she wore pink when she visited Coventry with Prince William last week. But, Middleton is spotted more often wearing blue dresses.
In related news, the betting for the name of Prince William and Middleton's third royal baby has already started. The leading name is Alice while the runner-up is Albert.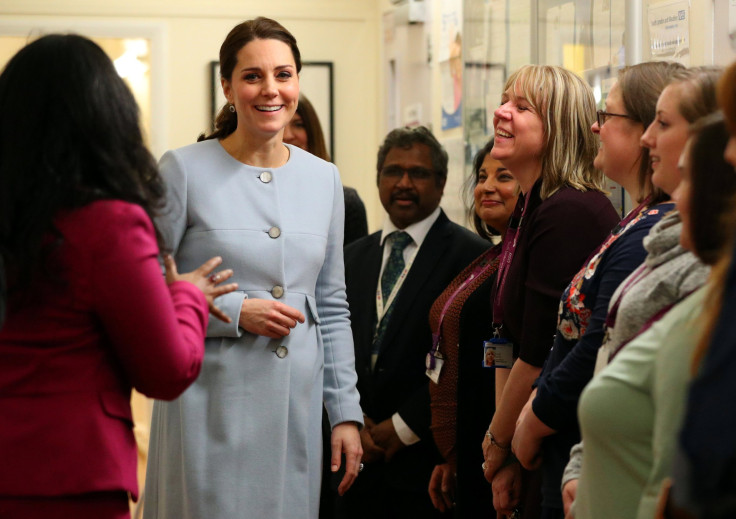 © Copyright IBTimes 2022. All rights reserved.
FOLLOW MORE IBT NEWS ON THE BELOW CHANNELS