Kate Middleton, William's New Staff To Serve Other Royals Not Meghan, Harry
Kate Middleton and Prince William's new staff will be serving other royals but not Prince Harry and Meghan Markle.
According to Mirror, the Duke and Duchess of Cambridge are looking for a new HR advisor. The lucky applicant will have the chance to work with other senior royals, not the Duke and Duchess of Sussex, but with the Prince of Wales and Duchess of Cornwall.
Prince William, Middleton, Prince Charles and Camilla are reportedly on the lookout for a new HR advisor. Based on the job description, the position is going to be full-on.
There is no salary advertised, but the ad says that "the role will be responsible for the full employee lifecycle, and provide an exceptional HR generalist service to the organization, including benefits, recruitment and HR reporting."
The ad also says that the applicants need to have "technical knowledge and experience of HR systems." They also need to be skilled in employee relations and management coaching and with excellent communication skills, ability to build relationships and engage with staff at all levels.
Those who are aiming to get the position must be pro-active, self-motivated, and with plenty of initiative. Excellent organizational skills and ability to manage multiple tasks will surely be an advantage.
Last month, it was reported that Prince Harry and Markle were removed from Prince Charles' website. One insider said that the Duke of Sussex wanted to "control everything and everyone he's involved with." The same source expressed concerns on how Prince Harry would be able to pay for his staff.
"How he's going to pay for it is another question," the source said.
Prince Harry's office and royal duties have stipends from the Prince of Wales. Without Prince Charles' support, he would need to turn to Queen Elizabeth II for funding. However, the Queen already has a lengthy list of people to support.
In related news, Prince Harry and Markle reportedly made a "tactless jibe" at Prince Wiliam and Middleton. The Sussexes' statement about their social justice causes were deemed a "low blow" to the Cambridges.
Prince Harry threw shade at Prince William by saying that he only wanted two kids maximum for the environment. Meanwhile, Markle was accused of taking a dig at Middleton when she declined to grace the cover of Vogue because it was "boastful."
Prince William and Middleton have three children. Also, the Duchess of Cambridge appeared on the Vogue cover three years ago for the magazine's centenary issue.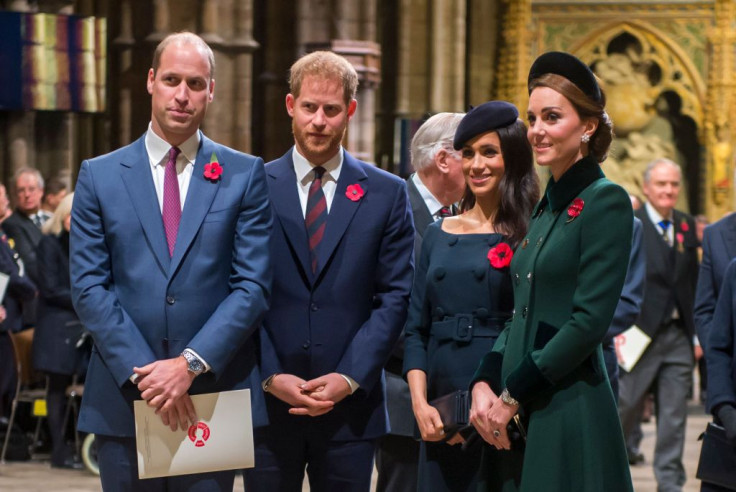 © Copyright IBTimes 2023. All rights reserved.