Kathy Griffin Slams Melania Trump Over Immigration Controversy, Faces Backlash Again
Comedian Kathy Griffin struck another feud with the Trump administration by slamming Melania Trump over the immigration controversy. On Sunday, Griffin took to her Twitter account to use some bad words shading the first lady.
"F--- you, Melanie. You know damn well your husband can end this immediately…you feckless complicit piece of s---," Griffin's tweet read, alluding to a May tweet from Trump in which he misspelled his wife's name.
This tweet also alluded to Samantha Bee's slam of Ivanka Trump as a "feckless c---" on her show in May.
The harsh words came after Melania's representative released a statement to Fox News over the ongoing debate about the United States' border separation policy.
"Mrs. Trump hates to see children separated from their families & hopes both sides of the aisle can finally come together to achieve successful immigration reform. She believes we need to be a country that follows all laws but also a country that governs w/heart," her office told Fox News.
Recently, news surfaced of family members who have been separated by federal authorities while illegally crossing the border from Mexico into the U.S.
Griffin, who faced backlash for appearing in a photograph where she was holding a mask made to look like the bloodied, decapitated head of President Donald Trump, has already been criticized for her latest tirade against the first lady.
"Kathy Griffin is hate filled and pathetic," one user tweeted, saying the comic was one reason "why the left can't be taken seriously."
Another user wrote: "ATTN: @SecretService I sincerely believe Kathy Griffin needs behavioral counseling, before she possibly attempts to harm the @POTUS and/or his family. She apologized for her erratic behavior, before, but obviously she didn't mean it."
A third wrote: "Why doesn't the state or someone require Kathy Griffin to have a psych eval.? Can't everyone see that she is not mentally well? She could end up hurting someone or herself. She needs serious help!"
After the gory photo went viral in May 2017, Griffin said sorry but later took back her apology. Following the photos, CNN removed Griffin from hosting its New Year's Eve show alongside co-anchor Anderson Cooper.
However, despite the controversy surrounding the photos, Griffin managed to bounce back and has been steadily working and appearing at Hollywood events. Speaking in May, Griffin claimed she received many death threats on social media in the wake of the Trump photo.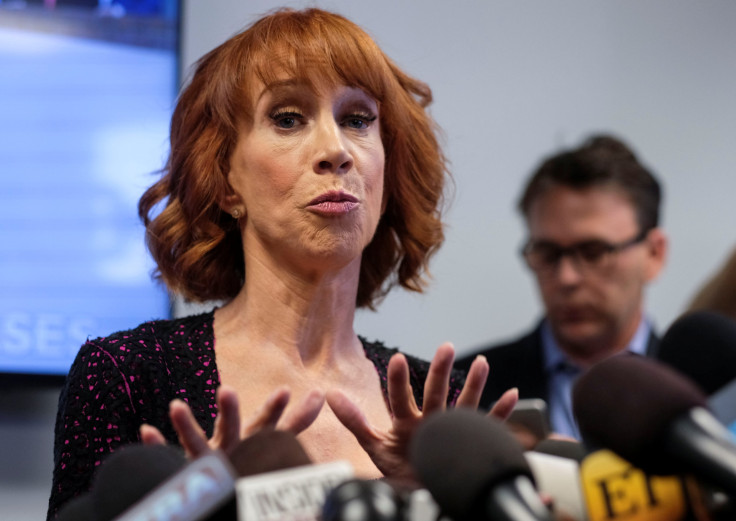 © Copyright IBTimes 2023. All rights reserved.