Katie Holmes' Rep Denies Suri Cruise Is Getting Into Acting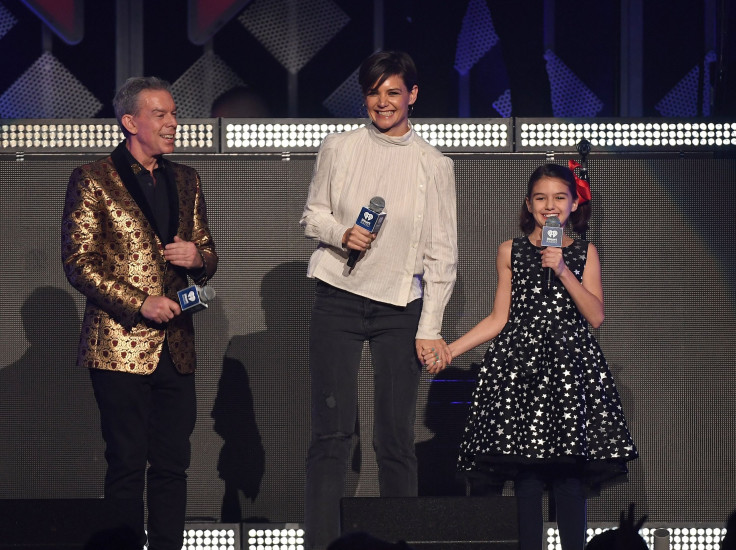 Don't expect to see Suri Cruise on the big screen anytime soon. After a report surfaced over the holiday weekend claiming Katie Holmes and Tom Cruise's daughter Suri was looking to get into show business, a rep for the former "Dawson's Creek" actress has denied the claims.
The rumor started after Star Magazine reported that Katie, 39, was supportive of Suri, 11, getting into modeling or acting. "Katie thinks that Suri could be a model when she's older. Or maybe an actress. Katie says Suri will be even more famous than her dad," the tabloid's source stated.
A rep for Holmes has now denied the validity of the report, calling the article, titled "Look Out, Tom! Suri's Showbiz Dreams," completely "false."
"Suri simply isn't embarking on a career in the entertainment industry at this time," Gossip Cop, who reached out to Holmes' rep to debunk the claim, added. "Of course, both of the young girl's parents are performers, so she could potentially catch the acting bug at some point in the future, but the 11-year-old isn't currently dreaming of stardom."
Holmes' denial of the report makes even more sense when you read her comments about stepping away from acting in favor of working behind-the-scenes to direct in the future.
"This business is so unstable, and you never really know where you're going to be. The thing about directing is I can say I have this window and that's when we're getting it done," Holmes told Town & Country Magazine in February.
"My child is the most important person to me, and her upbringing is paramount to my work right now. It's very important that I'm present and she has a stable, innocent childhood. I feel so blessed to do what I do, but there's nothing in the world better than watching your child succeed."
While Suri may not be looking to get into the spotlight like her famous parents, she did make a big appearance earlier this month. Alongside Holmes, Suri presented at Z100 New York's iHeartRadio Jingle Ball at Madison Square Garden on Dec. 7. The mother-daughter duo did not perform, but instead, introduced one of their "favorite performers," Taylor Swift, to the stage.
© Copyright IBTimes 2023. All rights reserved.