Kensington Palace Didn't Include Meghan Markle In Photo Tribute For Queen Elizabeth
Meghan Markle's fans attacked Kensington Palace due to a photo.
The Duke and Duchess of Sussex announced earlier that they are officially separating their household from the Duke and Duchess of Cambridge. In addition, they also made their own social media account as they officially joined Instagram. Prior to this, the fab four were under the Kensington Palace umbrella.
On Sunday, Kensington Palace shared a photo of the members of the royal family with Queen Elizabeth II to commemorate her 93rd birthday on Instagram. Markle's fans immediately noticed that she is missing in the photo tribute.
The Duchess of Sussex's supporters questioned Kensington Palace's choice of photo. One said why use an official photo without Markle. Another wrote why there is part of Prince Harry, but not his wife. A different user accused the palace of "deliberately" leaving Markle out.
"Interesting choice of photo. . . .almost like you looking for trouble. Is there not enough rumours and speculation going around. Why add fuel to the fire?" anni24_7 commented.
Meanwhile, a number of netizens defended the said post. According to them, the photo is an old picture and Markle isn't part of the royal family at the time. The snap was taken in 2016, months before Prince Harry and Markle's romance was publicized. Also, each of the royal accounts featured their own pictures with Queen Elizabeth II and they don't need to include everybody in their photo.
A different user stressed that Prince Harry and Markle also post photos without Middleton in it and there's nothing wrong about it. So, it's the same way here — nothing is wrong with Kensington Palace sharing a photo without Markle.
User carebear1st pointed out why so many people are complaining that Markle is not in the photo when Queen Elizabeth II's four children Prince Charles, Princess Anne, Prince Andrew and Prince Edward are more important than her grandchild's spouse. Yet, no one is looking for the four other royals.
Another user said that she didn't see anything malicious in the photo. However, Markle's fans insisted that they should not post any photo of Prince Harry without his wife.
In related news, Middleton's fans accused Markle of stealing the Duchess of Cambridge's mental health campaign. Just recently, the Duke and Duchess of Sussex announced that Prince Harry is working with Oprah Winfrey for mental health documentation which many find too similar to the royal trio's Head Together campaign. Prince William said that the said campaign was his wife Middleton's idea.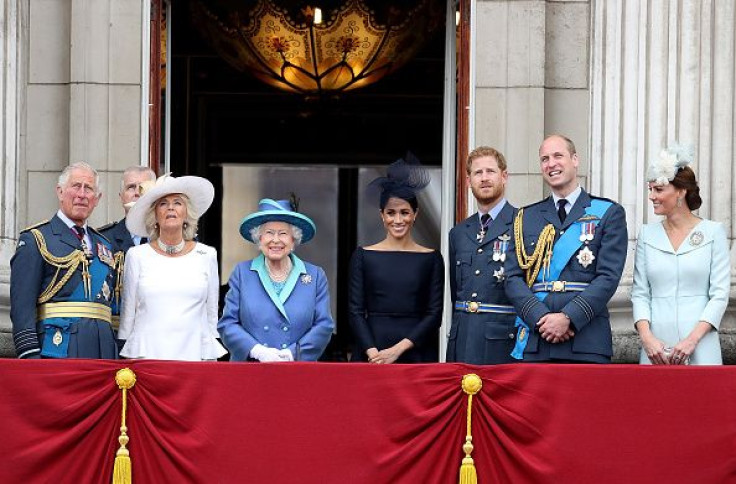 © Copyright IBTimes 2023. All rights reserved.