'Kevin (Probably) Saves The World': Kevin Ignores Yvette In New Sneak Peek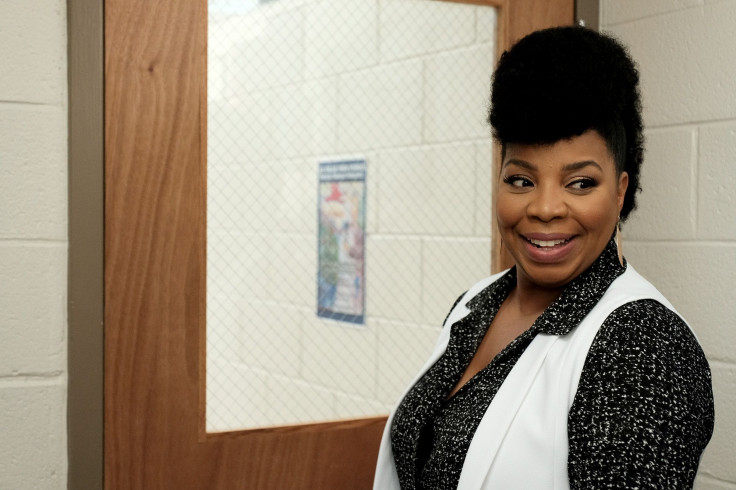 Kevin is not in the mood to talk to Yvette in tonight's episode of "Kevin (Probably) Saves The World."
In a sneak peek from Season 1, episode 8 of the ABC series, Kevin (Jason Ritter) is watching Reese's (Chloe East) school play when Yvette (Kimberly Hebert Gregory) suddenly appears in front of him.
"We need to talk now," Yvette tells Kevin.
Although Yvette seemingly has something urgent to tell Kevin, the former stockbroker surprisingly doesn't utter a word and pretends that he doesn't see her.
Upset that Kevin is ignoring her on purpose, Yvette comes closer to his seat and claps her hands in front of his face. "I know you can hear me, Kevin," the celestial being says loudly, trying to get his attention.
When Kevin continues to discount his guardian, Yvette goes up to the stage and says, "How is this Kevin? Can you see me now? Just a private little show … me and you."
Distracted by Yvette's move, Kevin leaves the auditorium, but not before telling his sister Amy (JoAnna Garcia) that he has to pee.
In the trailer for the episode, Yvette discovers that her fellow celestial being Dave (Will Sasso) is working against her and Kevin, so this could be the thing Yvette wants Kevin to know as soon as possible.
Elsewhere in the installment, according to the synopsis for the hour, Amy (JoAnna Garcia) prepares to go out on her first date since her husband died. As revealed at the end of Season 1, episode 7, Amy's date is her fellow professor Ignacio "Iggy" DePerro (Brandon Quinn).
Although Ignacio seems like a good guy, Quinn's guest-starring status on the series suggests that his character was only introduced as a roadblock in the inevitable romantic relationship between Amy and Nate (J. August Richards), who seemingly stepped back in pursuing Amy after Reese told him not to date her mom.
In addition to Yvette and Dave, their fellow celestial being Ava (Lauren Blumenfeld) also appears in the episode.
"Kevin (Probably) Saves the World" Season 1, episode 8, titled "Chrysalis," airs on Tuesday, Dec. 5 at 10 p.m. EST on ABC.
© Copyright IBTimes 2023. All rights reserved.