Kill Pussy Riot Video Game Joins Trayvon Martin Game And Rob Ford Smartphone App In Wave Of News-Inspired 'Entertainment'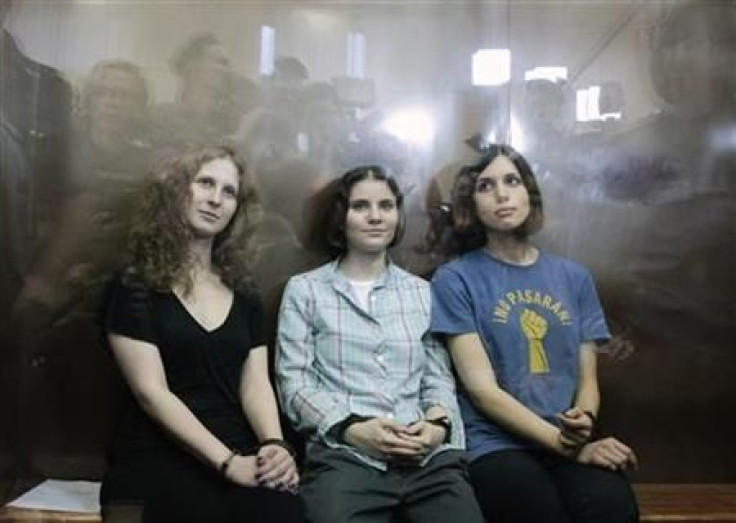 Adding to a recent wave of news-inspired video games and smartphone apps that sometimes push the boundaries of good taste, a Russian Orthodox youth group has reportedly created a video game that lets players kill the members of Pussy Riot.
The all-girl punk band, you might recall, was convicted of hooliganism for their anti-Putin protest performance at Christ the Savior Cathedral last year. Nadezhda Tolokonnikova and Maria Alyokhina are currently serving out their sentences, while Yekaterina Samutsevich was freed on appeal.
The video game was on display at a youth festival in central Moscow, according to a Reuters report. Apparently, the object of the game is to kill the band's members with a cross before they get into the church. Here's how Reuters reporter Thomas Grove described the game.
"Players use a mouse to move a cross over the screen and zap colorful cartoon representations of the women from Pussy Riot -- each with a balaclava like those worn by the band members in their protest -- as they try to enter a white church. When one of the brightly colored guitar-wielding band members gets there, a little red devil dances across the screen."
The game's technical complexity, level of difficulty and supported platforms are not mentioned in the report. Maria Voskresenskaya, one of the game's conceivers, told Reuters that the game took only two weeks to create. Software and programming tools have made creating video games possible for computer users with even the most rudimentary skills, which also means that no topic is off limits for game fodder.
The Pussy Riot game comes on the heels of other games and smartphone apps inspired by news events, some of which have caused a fair bit of controversy. A recent Change.org petition called on Google Play to remove the game app "Angry Trayvon," which featured a hoodie-wearing protagonist and drew obvious comparisons to teenager Trayvon Martin, whose accused killer, George Zimmerman, is currently on trial in Sanford, Fla. The app has since been removed, and its maker, TradeDigital, Inc., issued an apology, as reported by the Observer's BetaBeat.
And last month, Toronto-based Extra, Extra Games released "Stay Mayor," an Android game app based on the Rob Ford crack-smoking scandal. In the game, Ford dodges camera-wielding paparazzi and attempts to collect enough money to purchase an incriminating video before it falls into the hands of Gawker.
News-inspired video games arguably reached the pinnacle of vulgarity in April with "Boston Marathon 2013: Terror in the Streets," a crudely rendered free download released anonymously on the website Lolokaust.com, as reported by the Daily News. The game, which reportedly featured a marathon runner jumping over pressure-cooker bombs, circulated on the Internet just one week after the Boston Marathon bombings.
Got a news tip? Send me an email. Follow me on Twitter: @christopherzara
© Copyright IBTimes 2023. All rights reserved.