Is Kim Kardashian Planning A 'Huge' Nude Photoshoot? Report Says Kanye West's Wife Will 'Never Stop Getting Photographed Naked'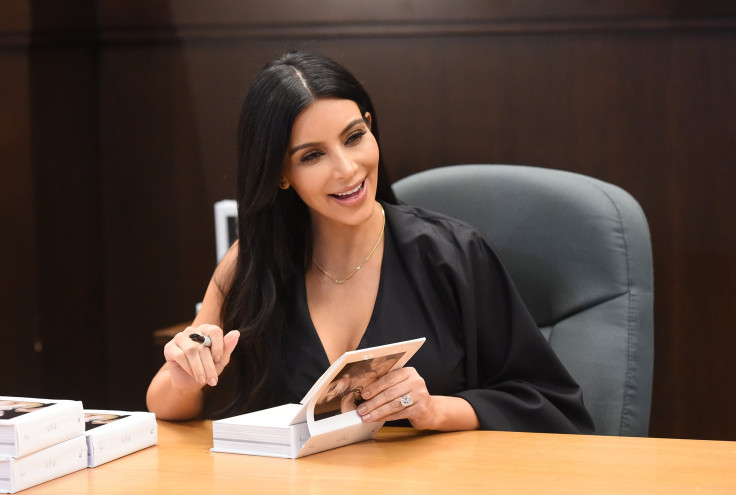 While Kim Kardashian may have tried to break the internet again with her nude picture on Twitter on Monday, a report Thursday said that the "Keeping Up with the Kardashians" star may have plans to do a new "nude photo shoot," according to Radar Online. The report comes after Kardashian was dissed by Bette Midler and Chloe Grace Moretz for her photo and entered into an argument with them on Twitter.
The report said that the criticism she received for her Twitter photo had just given her more motivation to pose completely naked as soon as her body is back in shape. The radar Online report also cited the friend as saying that Kardashian will "never do another sex-tape," despite speculations about it. Kardashian recently gave birth to her son Saint with Kaye West and there have been divorce rumors about the couple.
"Kim will never stop getting photographed naked," a close friend to Kardashian said, according to Radar Online, adding: "She is already planning a huge new nude photo shoot as soon as her body is back in shape."
The friend also told Radar Online: "She wants to pose completely naked more than ever before now," adding: "This is just the tip of the iceberg. She is not ashamed of anything that she's done and she's not going to keep quiet.
"Kim is telling her sisters that this is the 'new Kim' and that she will continue to go after anyone that comes at her," the source said, according to Radar Online, adding: "She is proud of her body and said that she believes she personally set the ideal for women around the world. Kim really credits herself with changing the perfect body type."
However, the Radar Online report was called out by the gossip debunking website Gossip Cop, which cited a representative for Kardashian, to say that the news was 100 percent "false." The report also alleged that Radar Online "doesn't furnish any details about the supposed shoot," and said that the report led with an inaccurate headline by mentioning "raunchiest" in it.
Kardashian had slammed those who criticized her for posting her naked picture I a post on her website by saying that they had to stop the "body-shaming and slut-shaming." She said that she was "comfortable in [her] skin" and felt "empowered" by her sexuality.
She wrote: "Enough is enough. I will not live my life dictated by the issues you have with my sexuality. You be you and let me be me."
She also slammed accusations saying that she was a bad role-model and said: "I don't do drugs, I hardly drink, I've never committed a crime – and yet I'm a bad role model for being proud of my body?" She added: "It always seems to come back around to my sex tape. Yes, a sex tape that was made 13 years ago. 13 YEARS AGO. Literally that lonnng ago. And people still want to talk about it?!?!"
© Copyright IBTimes 2023. All rights reserved.