Kim Richards Takes Blame On Dr. Phil; Report Says She's 'Broke' And Can't Afford Daughter's Wedding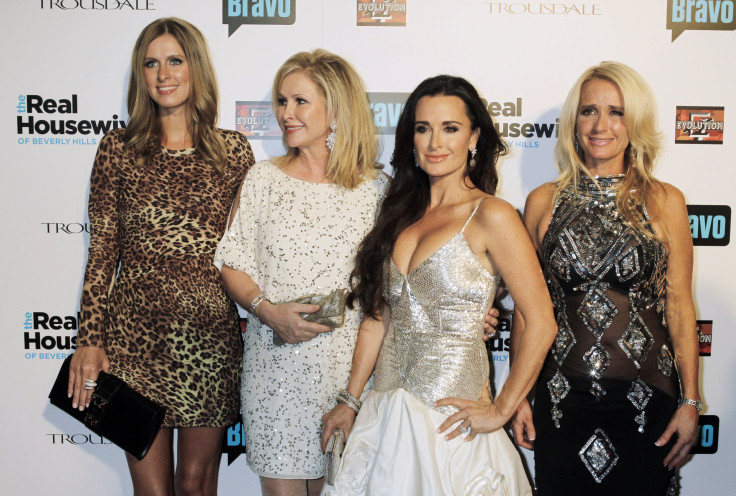 Kim Richards, one of the stars from the show "The Real Housewives of Beverly Hills" is reportedly "broke." The latest news adds to the woes of the 50-year-old actress who was publicly arrested last week from the Beverly Hills Hotel. Sources told Radar Online that the actress' contribution to her daughter Brooke Brinson's second wedding would also be minimal.
"For Brooke's weddings, both of them, the groom's family paid and is paying," a source told Radar Online, which reported that Brinson's husband Thayer Wiederhorn comes from a well-to-do family. "The Weiderhorns own Fatburger and Thayer's dad Andy is a multi millionaire," the source reportedly said, adding: "But Kim can't afford it and Brooke's dad Monty is supported by Kim. He's broke too."
Richards, who has been to a rehabilitation center thrice, also discussed her arrest from the Beverly Hills Hotel on an episode of Dr. Phil, which will air on April 28. She was charged with trespassing, resisting arrest, battery on a police officer and public intoxication on Thursday. She is now set to appear at the Los Angeles Superior court on May 10.
"I was angry and frightened and I was scared. I knew what I had done," Richards had said on Dr. Phil, according to People magazine, adding: "The whole night is my fault. None of this would have happened if I didn't drink." However, a source told the magazine that she will not go to a rehab again.
A family friend told the Daily Mail that the star's former husband Monty Brinson is fighting stage 4 cancer, which has been an added stress for Richards. "A big part of all of this is that she is just stressed out," the friend reportedly said, adding: "She is under a lot of pressure, especially because of Monty."
© Copyright IBTimes 2023. All rights reserved.