Kindle Fire, Round 2: Amazon Prepares To Launch Again Into Lower-Cost Tablet Mob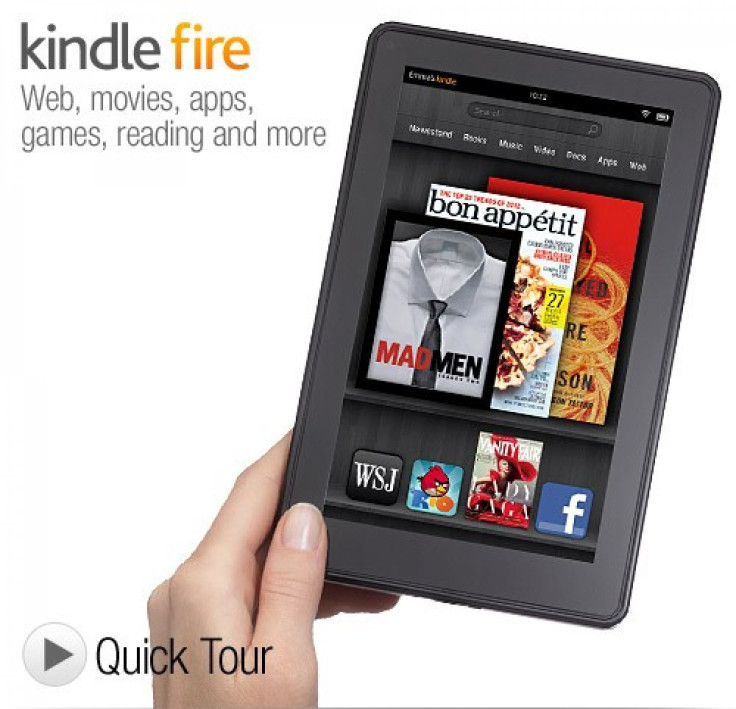 Ten months after betting the company on the success of the Kindle Fire, Amazon.com Inc. (Nasdaq: AMZN) CEO Jeff Bezos plans to redouble his effort Thursday when he displays its successor as well as new members of the Kindle e-reader line in California.
Although product specifications haven't been leaked, chances are the Chinese-assembled devices by Quanta Computer of Taiwan (TPE: 2382) will be improved versions of the Kindle Fire tablet, which Bezos started selling last November, when the $199 models helped the Seattle-based e-retailer carve out a 17 percent share of the tablet market that was created by Apple (Nasdaq: AAPL), the world's most valuable technology company, in 2010.
Subsequently, Bezos, 48, kept stuffing the Amazon Prime entertainment offerings for Fire users with ever more titles from publishers, Hollywood studios and current and old TV productions, all in a battle with the $499 iPad as well as online services like Netflix (Nasdaq: NFLX).
By Aug. 31, the Kindle store held 1.6 million titles, including books, newspapers and magazines; the Music Store held nearly 21 million titles and the video-on-demand store held 143,000 titles, including 90,000 TV episodes.
Bezos also said he'd sacrifice Amazon's near-term profitability to build long-term market share and recurring revenue from services.
So far the gamble appears to have paid off: After missing fourth-quarter earnings estimates when the company reported net income of only $177 million, or 38 cents a share, in what is usually its strongest season, Amazon shares swooned. They set a 52-week low of $166.97.
But on Wednesday, Amazon shares closed at $246.22, down $1.66, just shy of their $251 high. For the past 52 weeks, the shares have advanced 17.1 percent and 42 percent this year. Bezos owns just under 20 percent of the company outright. The whole company's market value is $111.2 billion.
To be sure, the Princeton-trained electrical engineer and patent holder for various ingenious devices faces new challenges this year.
For one, Apple, of Cupertino, Calif., continues to sell iPads like crazy for a higher price; it's rumored to be ready to sell a smaller, cheaper version for the holiday season.
Then Microsoft (Nasdaq: MSFT), the world's biggest software company, will enter the fray, starting to sell its Surface tablet running Windows 8 next month. The Redmond, Wash., giant also invested $300 million in a joint venture with Amazon rival Barnes & Noble Inc. (NYSE: BKS), the No. 1 book retailer, for a new version of the Nook e-reader.
As well, Google (Nasdaq: GOOG), the No. 1 search engine and developer of the Android OS used by Amazon, has been selling its $199 Nexus tablet for several weeks.
Finally, rivals in the PC sector, from Hewlett-Packard Co. (NYSE: HPQ), the No. 1 computer company, and Dell (Nasdaq: DELL), the No. 3 PC maker, plan to sell tablets; Samsung Electronics (Seoul: 005930)'s Galaxy Tab family is already a huge success and others including No. 2 PC maker Lenovo Group of China (Pink: LNVGY) and Japan's Sony Corp. (NYSE: SNE) are also in the sector.
Analysts have mixed opinions on Amazon. Standard & Poor's analyst Michael Souers rates it a "Hold" near term because of the pressure on margins as well as concerns about the overall retail economy.
At Jefferies (NYSE: JEF), Brian Pitz this week began coverage with a "Buy" and $300 price.
"It's the leading e-commerce player in North America," he said. Amazon is selling the Kindles at cost, he said, but with good intentions: "We firmly believe the ensuing tie-ratios and consumption of digital content are margin accretive longer-term and are helping Amazon retain customers and build share as the world collective crosses the digital chasm."
© Copyright IBTimes 2023. All rights reserved.
FOLLOW MORE IBT NEWS ON THE BELOW CHANNELS